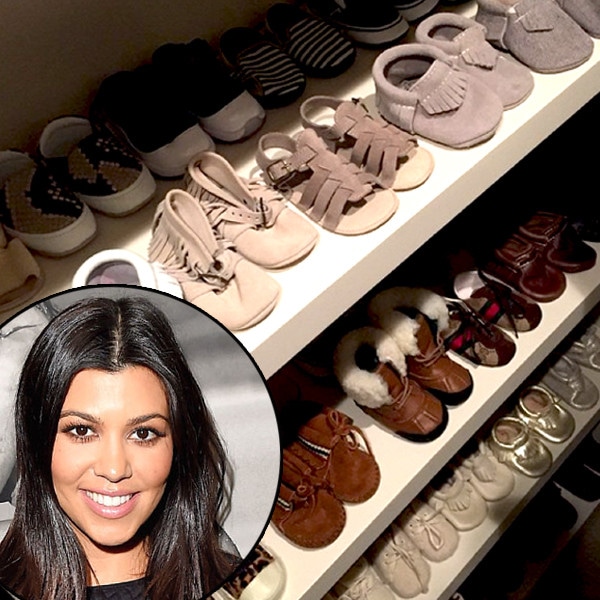 Instagram/Getty Images
How can anyone keep up with all these shoes?!
While fans know Kourtney Kardashian is never one to shy away from organized closets and fashionable outfits for everyone in her family, her latest Instagram picture pretty much blew us away.
As she gave fans an inside look into her closet, the Keeping Up With the Kardashians star just so happened to show off her wide collection of shoes for Mason Disick, Penelope Disick and Reign Disick.
"Shoe game real," Kourtney wrote as her caption while revealing rows and rows of baby shoes. From ballet flats and moccasins to winter boots and Vans, there's something for every child, every season and basically every day.
Well done, Kourt.
And while we hate to compare the sisters, we can't help but be reminded by Kim Kardashian's recent post that showcased her far less organized closet.
Before picking out another outfit for a dinner with Kanye West, the 34-year-old showed that a clean room for clothes isn't on the top of her priority list.
"Yesterday….trying to pick out an outfit struggle," she captioned in a room full of hangers on the ground as well as a handful of blouses resting on a couch. 
Now if only we could get a sneak peek inside Khloé Kardashian's closet. After all, Kendall Jenner and Kylie Jenner admitted she has some pretty impressive items that she's more than willing to share.
"It's Khloé for shoes," Kylie recently spilled on Fashion Police when asked whose closet she loves to raid. "I use Kim for accessories and bags," Kendall added.
Don't forget to watch the season finale of Kourtney & Khloé Take the Hamptons tonight at 9 p.m. only on E!