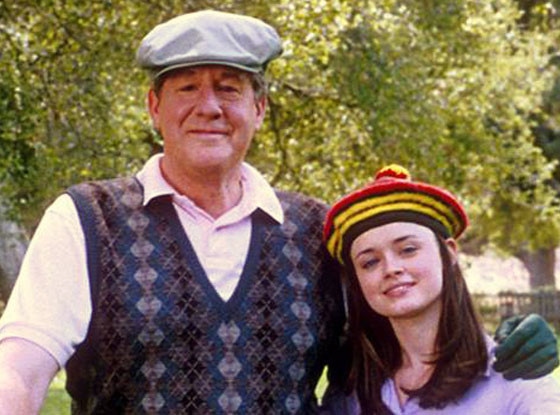 the WB
Alexis Bledel is remembering Edward Hermann in the wake of the late actor's recent passing. 
The 33-year-old beauty, who played the Hermann's granddaughter for seven years on the hit TV show Gilmore Girls, released a statement to E! News expressing both her grief as well as her appreciation for the opportunity to work with the talented thesp. 
"Ed Herrmann was a wonderful actor and a kind man," she said. "He was endlessly knowledgeable about theater, TV and film, and would generously share his wisdom or tell stories from a long and rewarding career. I am grateful to him for that, and will miss him tremendously. He loved acting and was the head of our Gilmore family with his strong presence and great sense of humor. May he rest in peace." 
Herrmann died on New Year's Eve at the age of 71 after a battle with brain cancer. His manager subsequently released a statement to E! News: "Edward Herrmann besides being an accomplished actor, he was a true gentleman and a scholar, as well as being an incredibly kind and decent man. He will be sorely missed."
In addition to Bledel, a number of Herrmann's former Gilmore Girl co-stars have spoken out since Hermann's untimely death.  
"My friend Ed Herrmann was the kindest, classiest, most talented man," Lauren Graham, who played daughter Lorelai Gilmore on the long running series, said. "It was an honor and a joy to know him, a devastating blow to lose him." 
"Besides being a consummate actor, he was kind and funny, fair and honest and always willing to join in the game," Kelly Bishop, who starred as Herrmann's TV wife Emily Gilmore said, echoing Graham's heartfelt sentiments. "We shared a love of acting and of being working actors and I suspect he was secretly grateful for all the opportunity and success he enjoyed...and deserved. His brother told me Ed never stopped learning; he was always curious. When I think of my dear friend, a phrase comes to mind: 'A hale fellow, well met.' And I am so lucky to have met him."