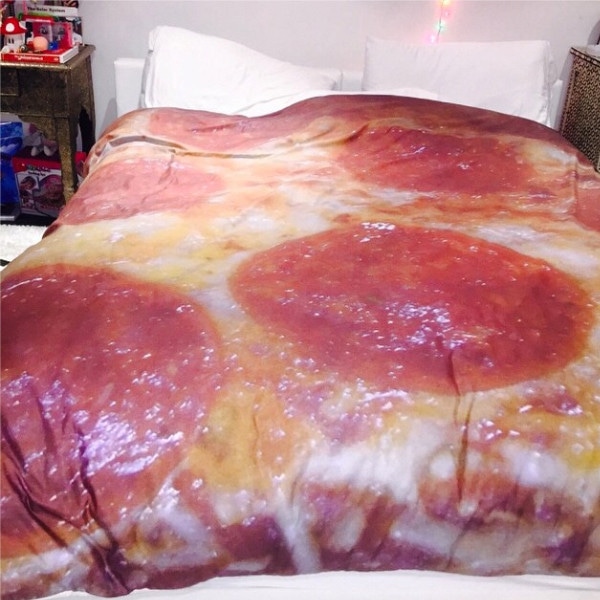 Instagram
While some of you imagine cuddling up to a greasy pizza late at night (don't be ashamed), Miley Cyrus actually is. Kinda.
The celeb revealed that pizza is quickly taking over her life—in the best way possible—by sharing that she now has a pizza bed comforter to match her pizza onesie. But this isn't just a generic bed spread with pepperonis on it. Nope, this is the real deal. It glistens, you guys, and that makes us feel some type of way.
Sure, pizza is awesome. Obvs. But Miley's new comforter looks so real that it makes us feel like you'd be lying in a pool of pizza grease. But hey, some people are into that. Probably.
"Looks like an edit but it most certainly is not dats my bed fokz," Cyrus captioned the photo of her bed. She also posted a selfie with her signature tongue-out pose and wrote, "dweamz come twu."

There's no word if boyfriend Patrick Schwarznegger was the man behind the pizza comforter, but these two lovebirds did ring in the New Year together. "Gunna be a gooood year," Patrick captioned a cute picture of the duo wearing 2015 glasses.
The young Hollywood couple headed to Las Vegas over the holiday to kick off the new year with a bang as they celebrated with family and some surprise friends.
It all began with a fabulous dinner at Strip House Las Vegas inside the Planet Hollywood Resort & Casino where the pair were joined by newly engaged Sofía Vergara and Joe Manganiello as well as Arnold Schwarzenegger and his girlfriend Heather Milligan.
After chowing down on a delicious meal that included New York strip steak and black truffle creamed spinach and potato, the group headed to the sold-out Britney Spears concert at the same hotel.
"Miley danced the whole time and sang along," an eyewitness told E! News. Patrick even got a midnight kiss after a night of non-stop hits. "2015," Miley wrote in her first Instagram post that included her planting a big smooch on her man.
Pizza and kisses—what else could you ask for?