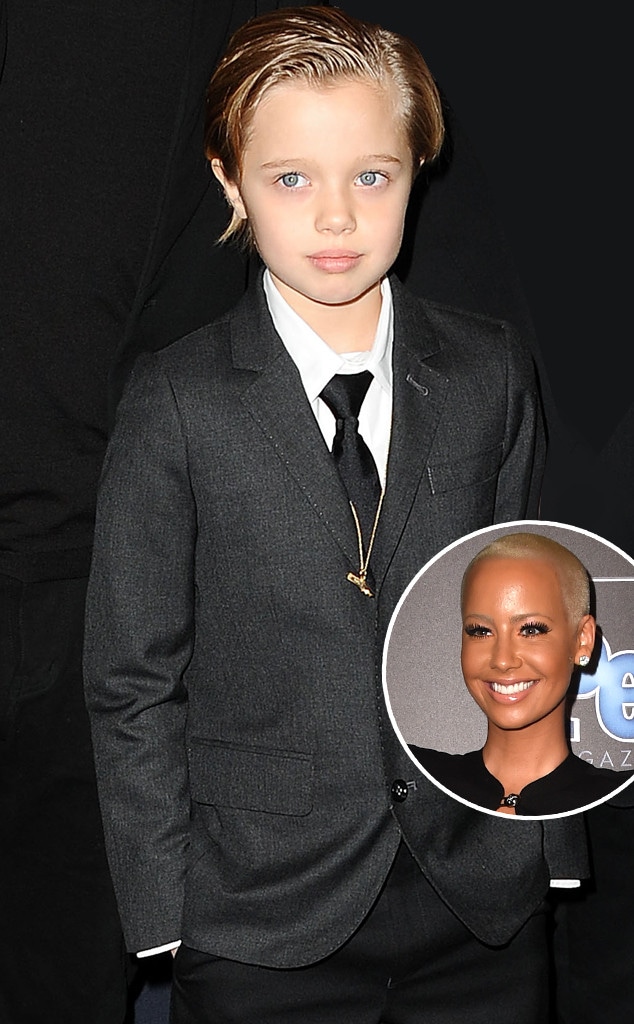 ROBYN BECK/AFP/Getty Images; Steve Granitz/WireImage
Amber Rose is getting both backlash and praise for a controversial Instagram post she shared about Brad Pitt and Angelina Jolie's 8-year-old daughter, Shiloh Jolie-Pitt.
Last night, the 31-year-old model posted a photo of Shiloh from her mom's recent Unbroken premiere in L.A. with the caption, "How gorgeous is John Jolie Pitt?! Born into the perfect family for him. #TransKids #LoveurKidsNoMatterWhat#Support."
If you didn't know, Pitt revealed to Oprah Winfrey back in 2008 that Shiloh prefers being called John. "She only wants to be called John. John or Peter. So it's a Peter Pan thing," he said when Shiloh was just 2. "So we've got to call her John. 'Shi, do you want…' 'John. I'm John.' And then I'll say, 'John, would you like some orange juice?' And she goes, 'No!' So, you know, it's just that kind of stuff that's cute to parents and it's probably really obnoxious to other people."
Two years later, Jolie opened up to Vanity Fair about Shiloh's masculine style.
"Shiloh, we feel has Montenegro style. It's how people dress there. She likes tracksuits, she likes [regular] suits. So it's a suit with a tie and a jacket and slacks, or a tracksuit," the Oscar winner said in 2010. "She likes to dress like a boy. She wants to be a boy. So we had to cut her hair. She likes to wear boys' everything. She thinks she's one of the brothers."
While Rose's intentions were obviously coming from an extremely supportive place, for the record, Jolie and Pitt have never publically talked about Shiloh—or any of their children—being "transkids" as Rose put it.