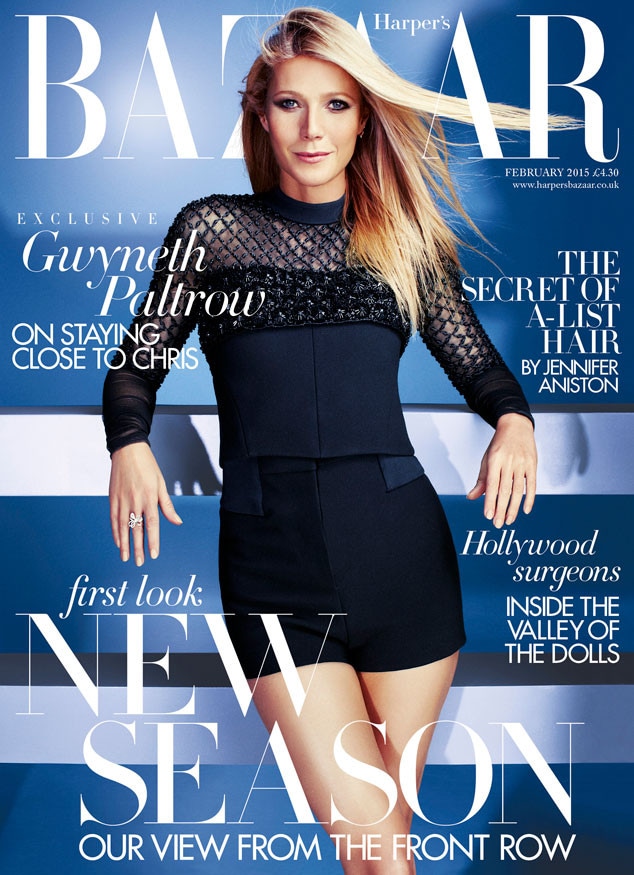 Alexi Lubomirski/Harper's Bazaar UK
Gwyneth Paltrow has moved on from the London life she once shared with hubby Chris Martin.
Now, the 42-year-old actress finds herself back in L.A., and as she tells the February issue of Harper's Bazaar U.K., there's "a deep comfort" about coming home to California, "because it's so familiar."
"The other day I was lying on the grass and the kids were playing and I was looking at the blue sky and the palm-trees—and there was something about the weather and the smell and I was, like, eight years old again," says Gwyneth, mom to daughter Apple, 10, and son Moses, 8.
Alexi Lubomirski/Harper's Bazaar UK
"I had such a strong memory of being a kid here—it's a really nice place to be a little kid," she tells the mag, "and it's great to watch my children have that experience."
The Goop goddess looks back on her own childhood with fondness, thanks largely in part to the influence of her late father Bruce Paltrow. She insists, that he and mom Blythe Danner didn't hand everything to her on a silver platter.
"I grew up with the benefit of a great education and a beautiful house, but my father always said, 'The day you leave, that's it. You're not getting anything,' and he stuck to it," she tells Harper's Bazaar U.K. "He was so hardcore about me making my own way…I've earned everything myself, and I've never taken any money from anyone—my father really pounded that into me, so I got the message."
Well, to be fair, Gwyneth made her acting debut in 1989's High, a TV film directed by her famous father. Her famous parents' connections might've helped her land some early roles in her career, too, but even if that was the case, it's no excuse for women to gang up on G.P.—something she's sadly quite accustomed to by now.
"Women really need to examine why they're so vitriolic to other women; why they want to twist words, why they want to read about someone else in a negative light and why that feels good to them," she tells the mag, adding that she's lucky  to "also know a huge tribe of women who are loving and supportive of other women, in ways that are completely transformative."
From all this, Gwyneth says she's "learnt the power of kindness and the importance of non-judgemental ways of looking at others."
The full feature on Gwyneth appears in the February issue of Harper's Bazaar U.K., on sale Jan. 2. It's also available as a digital addition.