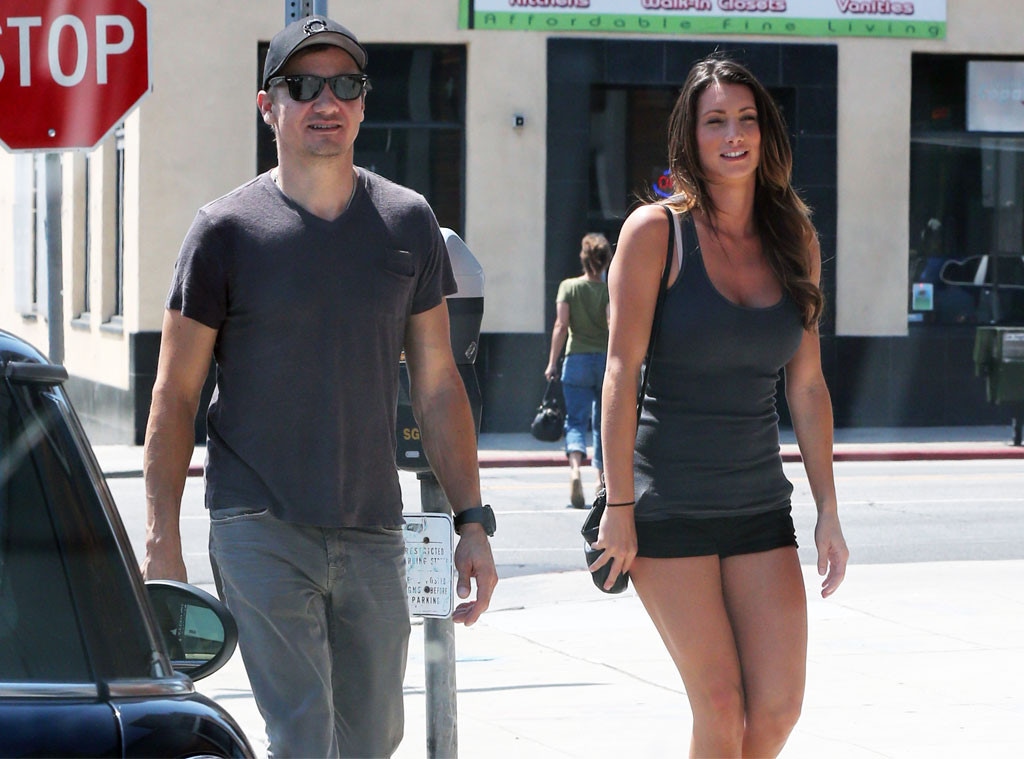 FAMEFLYNET PICTURES
Another celebrity marriage bites the dust.
Jeremy Renner and his wife, Sonni Pacheco, are divorcing after only 10 months of marriage. Divorce documents obtained by E! News reveal that the couple married on Jan. 13, 2014 and separated on Nov. 29, 2014. Pacheco cited irreconcilable differences as the reason for the breakdown of the marriage. She asks that the court award them joint legal custody of their daughter but to grant her physical custody. Pacheco also asks specifically that Renner "immediately return (her) stolen passport, birth certificate, social security card and be restrained from making further efforts to conceal same." She requests that the prenup be invalidated on the basis of fraud, that she be given temporary control of the Range Rover, and that Renner continue to make monthly lease payments and reimburse her for moving expenses.
She also wants Renner to sign up and communicate with her through "Our Family Wizard."
What caused the split?
"This has been on the cards for a while. They are just not compatible," a source tells E! News. "This is going to get ugly. His main priority is the baby and he will fight for full custody if it comes to that. All he cares about is being a dad. He is an amazing father. He is worried she is going to go back to Canada and take the baby."
According to the source, Renner regretted getting married in the first place, but was willing to try it out for the sake of his daughter.
"Jeremy wanted out of the marriage almost as soon as he got into it. He wanted to make sure Ava had a solid family unit and tried to make it work," the source added. "It's really sad because Jeremy loves Ava so much and hates that she will live her life with her parents split up."
Paul Morigi/Getty Images for Capitol File Magazine
His Canadian wife "pulled the trigger" after sensing that "Jeremy was fed up with her behavior," the source claims. But her citizenship is now causing the A-list actor to scramble for custody.
"Jeremy is worried he'll love Ava and will fight for primary custody. He doesn't want her going back and forth to Canada," the source says. "Jeremy is good father and loves his daughter, this is heartbreaking for him."
The couple shares 20-month-old daughter Ava Berlin.
The two preferred to marry in secret because of their desire for privacy. He told Capitol File that he doesn't enjoy the notoriety as a result of his status in Hollywood. 
"It's annoying being followed when I'm with my family," the 43-year-old, two-time Oscar nominee said. "It's not just me—everyone [in Hollywood] has to deal with that. I've been talked about a whole lot, because the less I put out there, the less people know, and it makes it interesting, I assume."
Ironically The Hurt Locker actor also told Elle in November 2013 that he never "felt pressured" to get married, and even mentioned that it might not be for him!
"It's not necessarily something I often think about. It's a whole other conversation," he said. "Don't forget how the institution of marriage came about." 
—Reporting by Claudia Rosenbaum