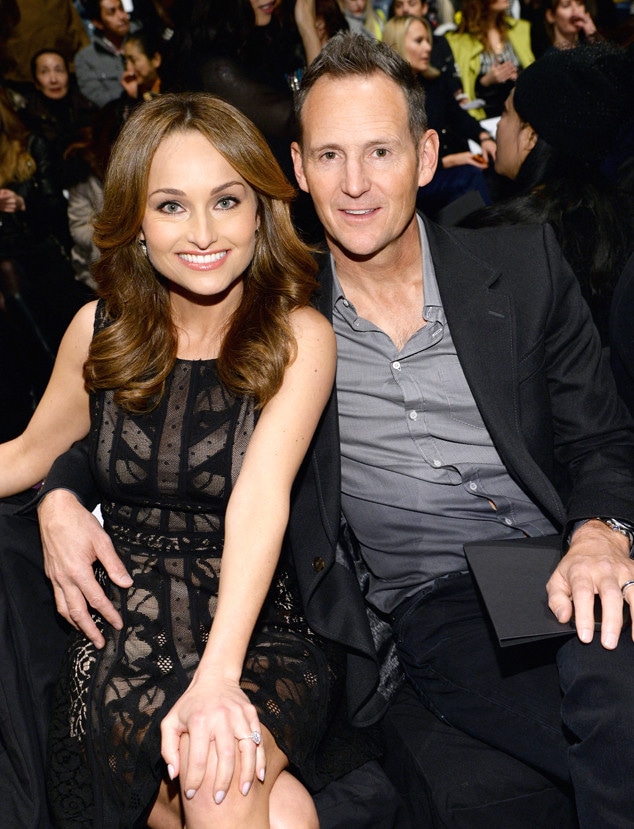 Larry Busacca/Getty Images For Mercedes-Benz Fashion Week
Giada De Laurentiis is cooking for one.
The Food Network star and her fashion designer husband, Todd Thompson, have split up after 11 years of marriage. De Laurentiis revealed on Facebook this evening that they did not arrive at that decision in haste.
"After an amicable separation since July, Todd and I have decided to end our marriage," she wrote. "Although our decision to separate comes with a great deal of sadness, our focus on the future and overwhelming desire for our family's happiness has given us the strength to move forward on separate, yet always connected paths."
Thompson and De Laurentiis have a 6-year-old daughter, Jade Marie De Laurentiis-Thompson, together.
"Todd and I share a beautiful daughter together," the celebrity cook continued, "and a lifetime of great memories that we both treasure more than anything. We are so thankful for our friends and family, and really appreciate the support in this time of change."
There was no word on whether they had yet filed for divorce. The duo married on May 25, 2003.
De Laurentiis, a Daytime Emmy Winner for Outstanding Lifestyle Host for Giada at Home, talked to Redbook in 2011 about meeting Thompson when she was 19 and he was 20 and knowing that he was the real deal—even though he was a bit of a culinary novice.
"He took a lot of flak from my family," De Laurentiis, whose maternal grandfather was famed film producer Dino De Laurentiis, told the magazine. "When he would come to my grandfather's house to eat dinner, my grandfather would say to me in Italian, 'Who is this person butchering his pasta by cutting it with a fork and knife?' Luckily, my husband is confident enough that he never took it personally. He'd laugh it off, and my family ended up adoring him. Food brings people together on many different levels. It's nourishment of the soul and body; it's truly love."
Asked whether she felt guilty because she's forced to travel away from her family so much for work, she said that she doted on them both up close and from afar out of "absolute love and respect," not guilt.
"I think it can be hard for any man to sometimes be upstaged by his wife," De Laurentiis said. "So when I'm home, I work very hard to be Todd's wife and Jade's mother. I have no problem going back to those traditional roles. I try to be Giada, the young girl that he met 20 years ago and fell in love with. All men want to be treated like kings in a relationship, and I think if women don't indulge that sometimes, their men are likely to stray and look for someone who can give that to them. It's simple. It's not brain surgery."
Incidentally, at the time of the Redbook interview, rumors were flying that she and John Mayer had hooked up—and the magazine asked her about the aftermath of the story, which she vehemently denied.
"The John Mayer incident was completely unexpected," she said, noting that Thompson was with her at the hotel where the rendezvous was alleged to have occurred. "I was shocked. And not so much for me, but for my husband and family. My family is used to that sort of thing. But my husband's family is not. Todd was embarrassed that his family in Michigan would see it and think, What is going on over there in Hollywood?...What made it all even more surprising is that I haven't had any contact with John Mayer in three years. You know how you'll briefly get introduced to somebody? Maybe we chatted for five minutes, but I wouldn't consider that intimate....I know these things happen, but maybe I was naive to think that they are usually based on some facts."
She credited her husband's support with getting her through a rough period that included the tabloid cheating claims and her grandfather's death.
"He knows I'm not capable of that," she said.