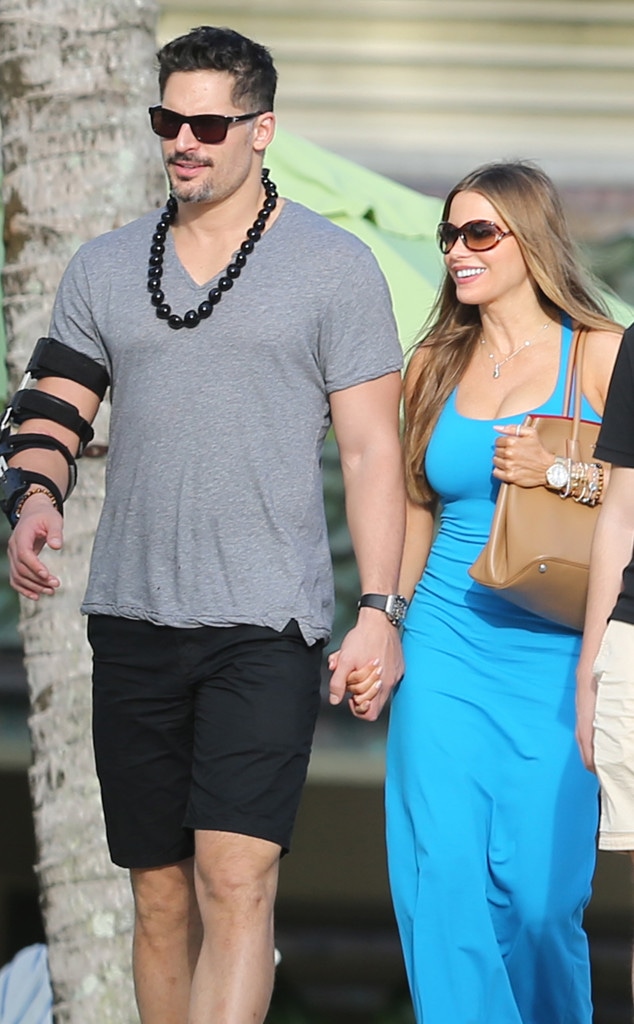 Splash News
Joe Manganiello liked her so much that he put a ring on it!
In case you missed the exciting news, the Magic Mike hunk popped the important engagement question to Sofía Vergara on Christmas Eve in Hawaii. As expected, she said absolutely yes!
"I've never seen two people so truly in love," a source revealed to E! News. "The way they talk to each other, touch each other. It's incredible."
And although the good-looking pair first started dating in July, their romance heated up in no time right before our eyes. As we continue to celebrate the exciting news, let's look back on the couple's road to engagement. 
July 7, 2014: Talk about one muy caliente couple. E! News confirmed the Hollywood hotties were in the early stages of dating. "They just started to hang out," a source revealed after claiming their combined sex appeal helped bring them together.
July 11, 2014: It may have been the early stages of their relationship, but the new couple made it a priority to come together on a very special birthday.
The Modern Family star celebrated her 42nd birthday with her new man at the posh sushi spot Nobu Malibu. And yes, Joe definitely met more than a few family members during the party. 
July 28, 2014: It's safe to say the Vergara family totally approved of Sofía's new man. The super-sexy couple spent quality time together in Miami for the weekend. And is it turns out, Joe had dinner again with 12(!) of his girlfriend's closest family members and friends.
Devone Byrd/PacificCoastNews
Aug. 18, 2014: New bling alert! Rumors of a possible engagement surfaced after the Chef actress stepped out sporting a noticeable sparkler on that finger. Any speculation, however, was shot down when it was revealed that the ring and matching necklace was a sample from her Kay Jewelers So Sofía line.
Aug. 25, 2014: Although Joe skipped the 2014 Emmys red carpet and award show, Sofía made it clear that there was a good reason for his absence.
"He's really hot, that's why I didn't bring him," she revealed to Giuliana Rancic. "He's too hot, too tall, takes a lot of space, so I'm like, 'Listen Joe, please don't come.' Too handsome, too sexy." Luckily, the couple "took center stage" at a pre-Emmy party where they displayed plenty of PDA. 
Sept. 2, 2014: Joe and Sofía take Mexico! In celebration of Labor Day weekend, the twosome headed to paradise for a much-deserved vacation. "It was just the two of them and it looked like a very romantic few days," an eyewitness revealed to E! News. "They had a lot of alone time together and didn't do much other than lay on the beach." Sounds perfect to us!
Nov. 29, 2014: More holidays mean more family time for Joe and Sofía. Although the Hollywood stars kept a low profile throughout the month, the couple appeared to be stronger than ever during Thanksgiving weekend.
"Giving thanks for a beautiful year and my love ones," she wrote on her WhoSay account after her boyfriend wrapped his arms around her. "Happy Thanksgiving!!"
Dec. 4, 2014: Guess we know what Joe was doing in this jewelry store. A source confirmed to E! News that the actor stopped by the King Baby jewelry store in Los Angeles for a romantic shopping trip with his girlfriend. "They bought lots of pieces—rings, necklaces and presents for friends and family," the insider dished. It all makes sense now. 
Dec. 29, 2014: While vacationing in Hawaii for the Christmas holiday, Sofía didn't just celebrate Joe's birthday. She also took a big step forward in her relationship with the actor. Congratulations again to the happy couple!