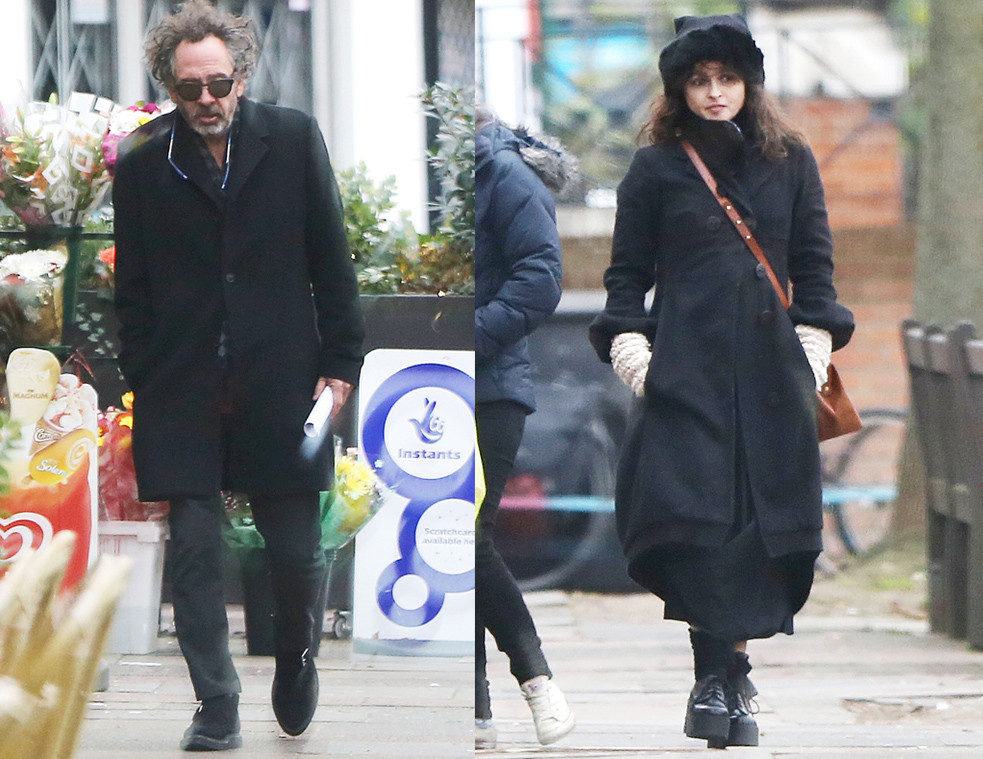 Xposure/AKM-GSI
Tim Burton and Helena Bonham Carter's relationship may be over, but the two are still spending time with each other, and their two children.
The Beetlejuice and Alice in Wonderland director, 56, and the 48-year-old actress, who has starred in many of his movies, had announced last week that they had split after 13 years together.
The pair, who met on the set of Burton's 2001 remake of Planet of the Apes, never married. On Dec. 23, their reps said the two had "separated amicably earlier this year and have continued to be friends and co-parent their children," son Billy, 11, and daughter Nell, 7.
The couple were seen walking together with their kids near their home in north London on Christmas Day and the day after, on what the United Kingdom marks as Boxing Day (pictured above, Burton and Bonham Carter). The couple has also been spotted out and about in the weeks before their split announcement. 
Burton, who is originally from the United States, and Bonham Carter have a rather unconventional lifestyle: They live in conjoined artists' studio homes, joined by a communal ground level room, while the children live with their nanny in a third residence on the same street, U.K. newspaper The Daily Mail reported in 2010.
"We just have two houses knocked together because mine was too small," the actress had said in 2010. "We see as much of each other as any couple, but our relationship is enhanced by knowing we have our personal space to retreat to. It's not enforced intimacy. It's chosen, which is quite flattering, if you can afford it."
She also added, "Tim does snore, and that's an element."
Burton and Bonham Carter are also known for their eclectic red carpet fashion style.
"I'm ­often criticized for what I wear," the actress told the U.K. newspaper The Guardian in 2010. That's my main label in the press now: disastrous dresser!"
"Sometimes it's really offensive, but it's kind of affectionate now," she added. "We're like the 'bonkers couple."
Jason Merritt/Getty Images
She and Burton are also known for their numerous film collaborations with Johnny Depp. He starred with her in Alice in Wonderland as well as in the director's films Charlie and the Chocolate Factory, Corpse Bride and Sweeney Todd: The Demon Barber of Fleet Street.
"It's not without its pressures, working with Tim," Bonham told The Guardian. "It worked on Alice. Sweeney was very stressful, very hard on our relationship."
"He's a partner in our private life, but when he's directing, he's the boss," she added. "And maybe I confuse that."