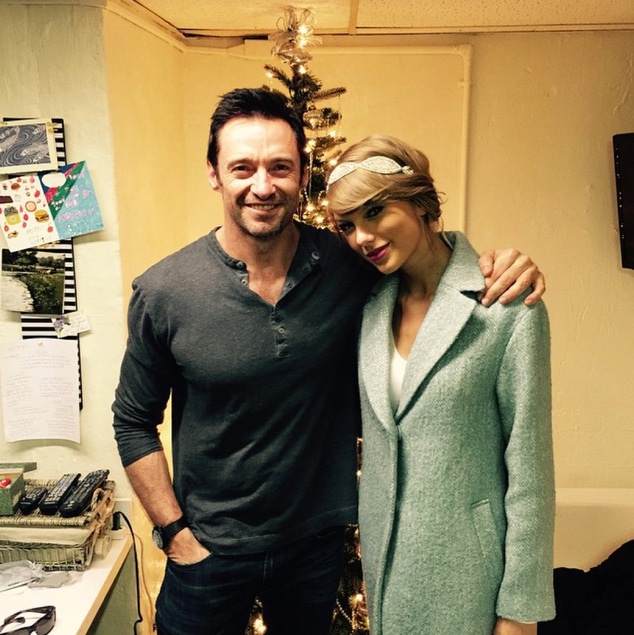 Instagram
Who knew another famous friend was on Taylor Swift's Christmas list?!
Hours before Santa Claus comes down the chimney, the "Blank Space" musician got into the holiday spirit with Mr. Hugh Jackman.
"Lovely to see @TaylorSwift13 and her family," Jackman wrote on Instagram Wednesday evening. "Merry Christmas Eve to all xoxx"
Just hours earlier, the Broadway star posted a separate photo from his latest New York City show. "Sending wishes for an awesome holiday! @TheRiverPlay," he captioned next to the Christmas tree.
So that's how they got together! Perhaps T.Swift attended the 2 p.m. matinee show with the family. What a great idea.
Meanwhile, Jackman wasn't the only guy making Swift happy the night before Christmas. Turns out Papa Swift did an excellent job picking out a present for his daughter.
"My dad just gave me ten lint rollers for Christmas, not for lint but 'because you always have glitter all over you,'" she wrote on Twitter. "Great start, Swifts."
Or maybe he knows how much his talented daughter is obsessed with cats! Have you seen how cute Meredith Grey and Olivia Benson are? Yes, they are named after the beloved TV characters.
While we're not sure what's on tap for the rest of the night, we may have one request.
Can Taylor and her handsome brother please pull out the Christmas onesies again? Yes, you two can "Shake It Off" while you're wearing them.