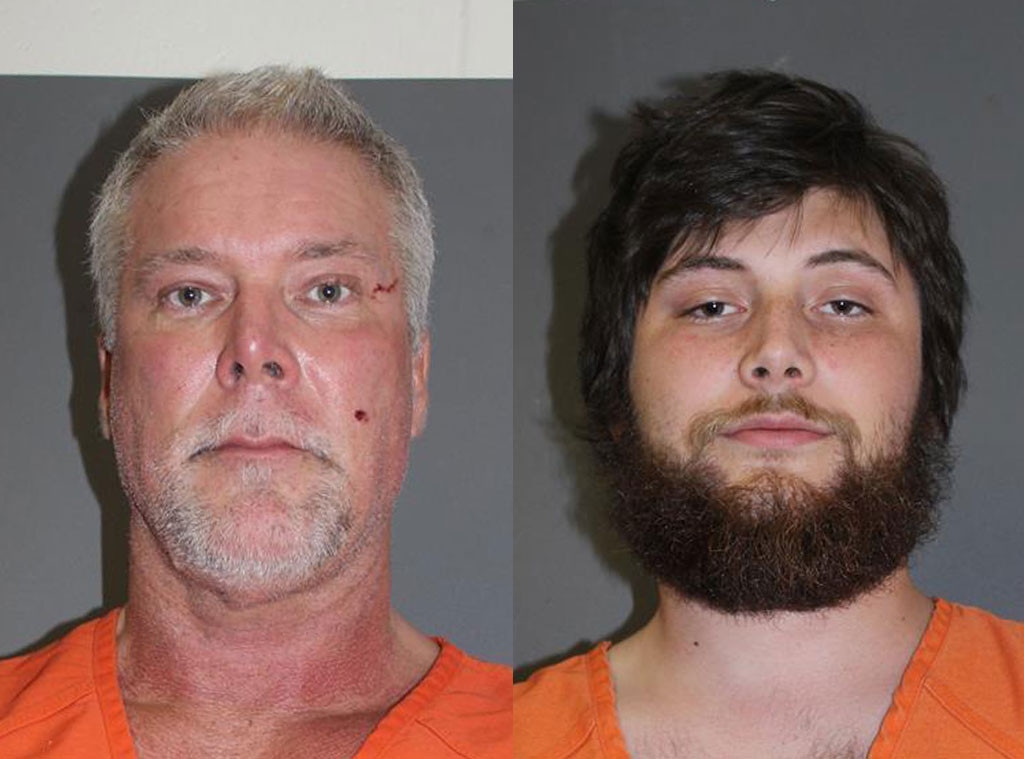 Volusia County Jail
WWE star Kevin Nash and his 18-year-old son, Tristen Nash, were arrested early on Wednesday, Christmas Eve, after getting into a scuffle at their Florida home.
The 6'10", 277-pound, 55-year-old wrestling star, once known by the stage name Diesel, and the 6'5", 200-pound teen were taken into police custody early in the morning and later released, records show. They have not commented. Both face charges of misdemeanor first degree battery. If convicted, they faces a maximum sentence of one year in jail and a $1,000 fine.
At a joint court appearance later that afternoon, an attorney who represented both the father and son said the incident was an isolated family matter and wouldn't happen again, WFTV-TV reported.
The charges are over two separate incidents that occurred hours apart at the family's home in the coastal Wilbur-by-the-Sea community, near Daytona Beach.
Police said they responded to a 911 call made from the residence just after midnight regarding a physical domestic disturbance involving Kevin and his son. According to a police report obtained by E! News, the wrestler told a deputy who arrived at their house that Tristen had "arrived home intoxicated" and acted "disrespectful" and "belligerent" towards him and his wife, the teen's mother, Tamara Nash.
The report stated that Kevin told the deputy that Tristen "spit in his face and shoulder/elbow checked him."
"At that point, he took a hold of his son and took him to the ground," it said. "Kevin had a scratch mark that was bleeding next to his left eye. He was unaware how he got scratched but advised he was scratched by his son when he was holding him down on the ground." Police said Nash told them that Tristen fell to the ground due to being intoxicated" and as a result, received a laceration on his elbow.
Tristen told police that he had gotten into a "verbal argument" with his father, saying the wrester "got upset" at him "due to him being intoxicated and having relationship issues with his girlfriend."
He said his dad "took a hold of his throat with one hand" and grabbed his right shoulder with his other hand, then "forced him down to the ground by his upper chest, neck area and shoulder." He said his father held him down on the ground by his chest and put pressure on it, rendering him unable to breathe. He also told police that as he was taken to the floor, he struck his left elbow on it, causing a laceration, and "hit the back of his head" on the ground, adding that he "blacked out" for "a second or two."
Police said they did not observe injuries on the back of the teen's head. They said Tristen "admitted to grabbing his father's face while being held down on the ground due to being unable to breathe and trying to get his father to release him."
Both Kevin and Tristen refused medical treatment and also refused to fill out a written statement affidavit about the incidents. The teen allowed a deputy to take photos of his injuries, while the wrestler did not, saying, "Get a subpoena," the report said. Police said that following an investigation, it was determined that Kevin was the "primary aggressor" and was arrested for domestic battery.
The scuffle has led to a WWE suspension for Kevin.
"Kevin Nash has not regularly performed for WWE since January 2004," the wrestling group said in a statement to E! News. "He is currently under a non-wrestling "legends" contract which has been immediately suspended until this domestic dispute is resolved.
Nash was also arrested for misdemeanor battery in 2011 after getting into a confrontation with a man in an unrelated incident. The charges were dropped.
Meanwhile, Tamara told police that she was on the second floor and did not see or hear her husband and son at the time of the reported Christmas Eve morning confrontation. However, police said that after her husband was taken into custody, she told them the teen "attacked him" and that "she was in fear due to past physical altercations between her and her son."
"Tamara Nash expressed concern that her son, Tristen, would destroy the house and possibly become physically abusive towards her if they both stayed at the residence," police said in their report.
They said she then called her mother to pick her up and take her to her house and that officers waited with Tamara, who told them up to half an hour later that "she canceled those plans with her mother" and planned to instead lock her son out of their home. Tamara's mom then phoned her son, Jerry McMichael, Tristen's uncle, and when he arrived at the residence, he, Tamara and Tristen argued. They eventually agreed that the teen would sleep in his bedroom and that his uncle would remain in the house, police said. But minutes later, another 911 call was made from the home, reporting another physical altercation involving all three of them.
Police went back into the home and saw the two men standing near the kitchen. McMichael told them Tristen had been "heavily drinking all night" and had "slung his mom around the kitchen." McMichael said he "attempted to grab his nephew," who then swung his fist at him. He said he held the teen down and contacted the police who were outside of the home.
They said Tamara refused to answer questions about this or complete a sworn witness statement. They quoted her as saying, "You a—holes" and then going up a flight of stairs, declining to comment. McMichael "became frustrated with his sister and nephew, then refused to cooperate with any part of the investigation from that point further" and "then left the area," police said.
They said that based on statements made by both parties involved, they believe there is "enough probable cause" to charge Tristen with simple battery-domestic violence.
—Reporting by Lindsay Good and James Chairman