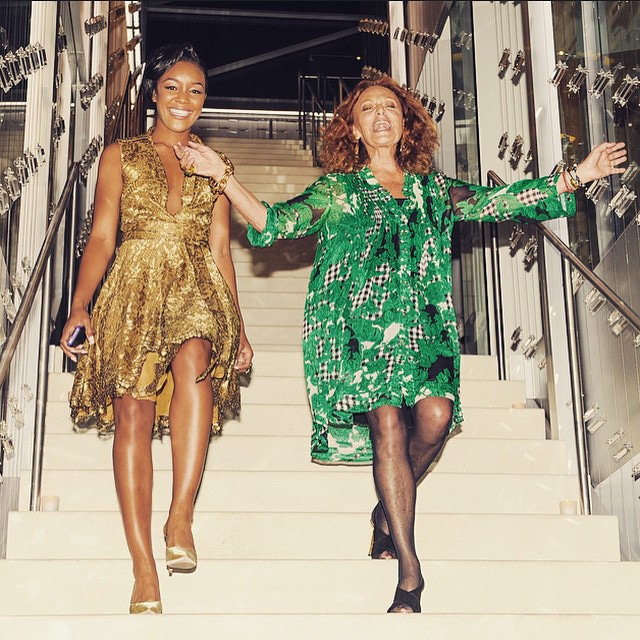 DVF
It's been a long and exciting road on House of DVF, where we anxiously watched and waited to see who would become the first-ever DVF Global Brand Ambassador! And finally, we have one—Brittany Hampton!
The celebrity stylist won many over with her polished demeanor and sharp style, while others (among them members of Diane von Furstenberg's team) were slightly apprehensive of her slight edge and occasional shift in attitude, but she managed to prove herself to the entire DVF crew over the course of several weeks and numerous fashion and style challenges!
Diane explained that she had a positive feeling about Brittany right from the start—even before she knew that Brittany was part of the Brand Ambassador program!
"The first time I saw Brittany, it was at the DVF Awards at the United Nations," Diane said. "She was beautiful in a long red dress and she was giving the awards out and I thought, 'Who is this pretty girl?' I didn't realize that she was one of the candidates because that was the first time I met all of them. She made a very good impression and I watched her from afar because I felt that she was the most equipped and had the most experience. Then after I met her mother and grandmother, I knew I had made the right choice. Her gramdmother came from the Philppines all alone with six kids, started a sewing business, does philanthropy and is an amazing woman. It's in her genes to work and I knew when I met the other women in the family that I had made the right decision."
Watch:
Will Diane Send Brittany Home on "House of DVF"?
Brittany was extremely excited to come out victorious in the program and, despite the challenges she faced along the way, she is grateful for all of her experiences and lessons learned.
"I would definitely have to say the best part was working with all of the girls," she said. "Because we ranged from 19 to 25, and to mix experiences and personalities, things differ, but it's a great moment. I learned a lot this season. You guys saw me cry a lot and I never cry this much! My biggest challenge would probably be having to get Jessica to like me more than she likes me now!"
Brittany is looking forward to proving herself within her new role as the official DVF Brand Ambassador and hopes to be a positive influence both on the brand and towards the younger generation of women.
"Representing the company, I will be traveling the world," she said. "Going store-to-store, selling it to girls, making the brand a lot more youthful, and bringing in the younger generation. A lot of the girls don't know who DVF is. They might respect her as a woman in fashion but they don't wear her clothing so it's my turn to bring it in."
Diane played a huge part in Brittany's personal transformation and growth, serving as a positive example who helped guide the young Brand Ambassador candidate towards success based off her own experiences.
"When I was very young, I liked people to think I was a bitch," Diane said. ""That was my defense. I wanted people to know that I was tough and they couldn't step on my toes and then I became very successful very early and I realized that actually to show your vulnerability is even a better way. As long as you know you're tough, you don't have to show it. That was my advice to her."
DVF Style Editor Jessica Joffe may have had an affinity towards Brand Ambassador candidate Amanda Schauer, but she is looking forward to guiding the newly-appointed DVF Brand Ambassador in her role and offered sound words of advice.
"I've told her to breathe, check in with herself, and remember that she is here on behalf of DVF," Jessica said. "And if in doubt, she can always find her way back to that. It's clear she knows what's on-brand and what's off-brand. She knows how to carry herself within that role and that's all you really need.  I don't think it's going to be that hard, frankly. I think the bigger challenge is being open to the fact that this is a process, everything is a lesson, and even though you won the competition, you're going to have to continue to learn. You're not always gonna get everything right, you're not always the expert. The biggest challenge might be not reacting."
Another incredible result of the Brand Ambassador search on House of DVF was the fact that not just one girl got a job. In fact, three did!
"When I met these girls on film and got to know them, I was only supposed to give one job," Diane explained. "I ended up giving three jobs! Lenore is working for wholesale because she is such a good salesperson. She could sell ice to Eskimos! Then little Tiffani, who looks like a mini Angeline Jolie, she works at store headquarters and she's there every day. They're all good girls, they work hard and they care. We are family. I love these girls."
Diane is extremely pleased with her decision and is also happy with the positive outcome from House of DVF. And she has changed more lives than just those of the young women on the show. She has also affected young women all acround the world who watched the show!
"My message is always the same to every girl in the world," Diane explained. "And even though I'm an old woman, I remember so clearly that moment in life where you push the first door. That moment where you are in your early twenties and you don't know what your life is going to be and what is going to be your door. It's a very special, magical moment and I was very honored to have the privilege of hosting young girls and seeing that, but not just the ones who were with me but the ones who were watching. At the end the message of the show and brand that I believe in is I was able to empower myself a long time ago and I want every girl and every woman to know that they can empower themselves. They can be the woman they want to be."
—Reporting by Jeffrey Wisenbaugh