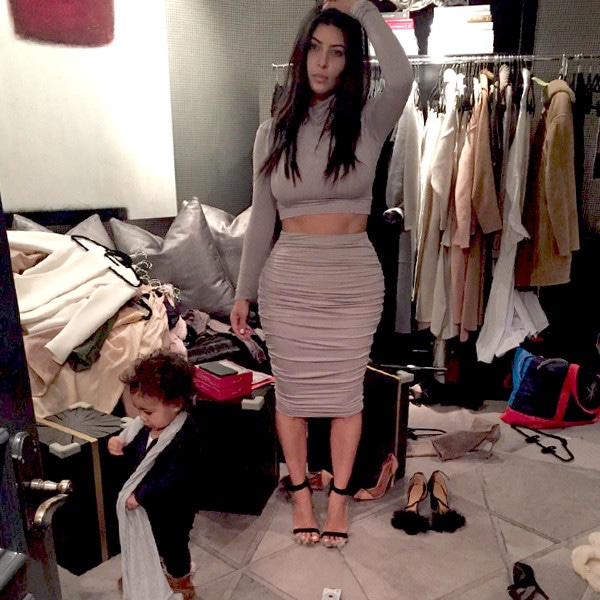 Twitter
Somebody needs a bigger space!
We always pictured Kim Kardashian's closet as a sanctuary full of world-famous designer items, personal pieces and dozens (and dozens) of shoes.
But according to the Keeping Up With the Kardashians' star's latest Instagram, her closet may be more like ours than we thought.
With North West by her side working a luxurious scarf (or maybe those are mommy's pants), the proud mom showed off a not-so-perfect room full of hangers on the ground as well as a handful of blouses resting on a couch.
"Yesterday….trying to pick out an outfit struggle," she captioned on Instagram. So what did she end up wearing?
Turns out she opted for the rabbit fur-lined heels from Céline valued at more than $6,000. She would also change into a different color skirt for her date night with Kanye West in Brentwood, Calif.
But how could the reality star known to grace Vogue and other high-fashion magazines have such a messy closet? Well besides the obvious fact that she has a growing baby at home, Kim prefers to remain hands-on in her fashion looks.
"I haven't worked with a stylist in the past two years!" Kim proclaimed on Australia's Today show. "[Kanye] is a great designer and he gives me amazing style tips."
Besides, her recent looks sure have some very important people noticing.
In this year alone, Kardashian was crowned GQ's Woman of the Year. She also was awarded the special title of "First Family of Fashion" by André Leon Talley.
"The three were a force of iconic moments as they pivoted around Paris, the mecca of fashion during the last fashion shows this month," Talley praised online in October. "The Nick and Nora Charles of our time, the Liz and Dick Burton, without the brawls."
So Kim, any chance we can get a tour of that closet anytime soon? Pretty please? 
For more Kardashians, watch Kourtney & Khloé Take the Hamptons Sunday nights at 9 p.m. only on E!