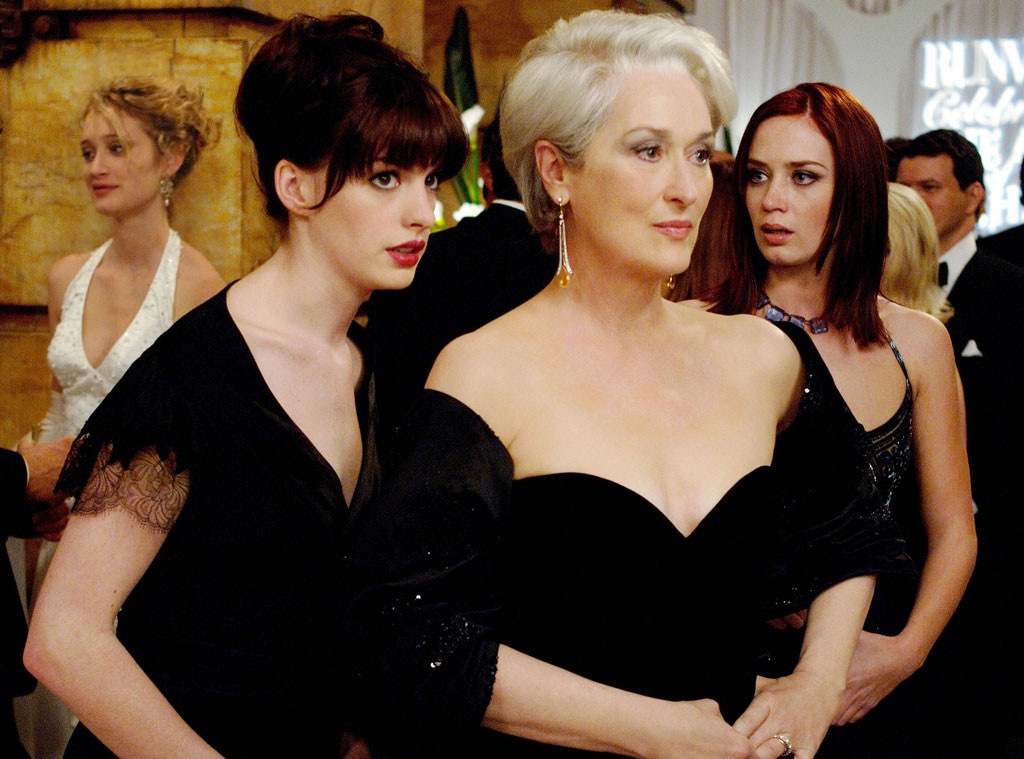 Barry Wetcher/20th Century Fox
It's been more than eight years since The Devil Wears Prada was released, so isn't it time for us to get more Andy and Miranda?
In other words, when the heck will we see a sequel to the fashion flick?
Emily Blunt, who played the Miranda's bitchy assistant Emily, tells me she's up for a Prada follow-up.
"I would do it, but only if everyone did it," she says. "I don't know why it hasn't been done, but everyone's got to do it."
Until then, we do get to see Blunt re-team with Meryl Streep in the big screen adaptation of Stephen Sondheim's iconic fairy tale musical, Into the Woods (in theaters on Christmas Day).
If you didn't know Blunt could sing, you're not alone. It seems only her mother was aware she had some pipes. "My mom always thought I was a good singer, but I think all moms think their kids are good singers," Blunt said. "That's why you see these poor disillusioned people auditioning for American Idol."
Even Blunt's husband of four years, John Krasinski, was in the dark. "I think he was surprised even to hear that I was auditioning for a musical, because I hadn't really sung in front of him ever—hummed in the car a few times, but nothing really," Blunt said. "I think he was pretty taken aback."
Blunt's work as The Baker's Wife in the Rob Marshall-directed movie recently earned her a Golden Globe nomination.
Which begs the question—is a Broadway musical in Blunt's future? "I would be up for it, but I would be terrified," she said, adding with a laugh, "I would only want to do it with Rob. I'll only do it with him. He's the only one who is kind enough to let me mess up." (Get on it, Rob!)
Blunt's name has also been on many speculative lists of actresses who could play Captain Marvel, the first female superhero who will be getting her own movie.
"No one has called," Blunt said. "It's all fan-casting."
She's already proved her action chops, most recently in Edge of Tomorrow opposite Tom Cruise.
"Do you know how hard that is?" Blunt said. "Do you know how f--king hard Edge of Tomorrow was? It destroys you."
But, she admits, it's also "really fun."
"But it's about the character," Blunt said. "Edge of Tomorrow was an amazing character. She's a heroine. She's violent, difficult, complex, a shut-down warrior. It was so cool. I got to kick Tom Cruise's ass everyday and shoot him in the head like 20 times. He was so nice about it."