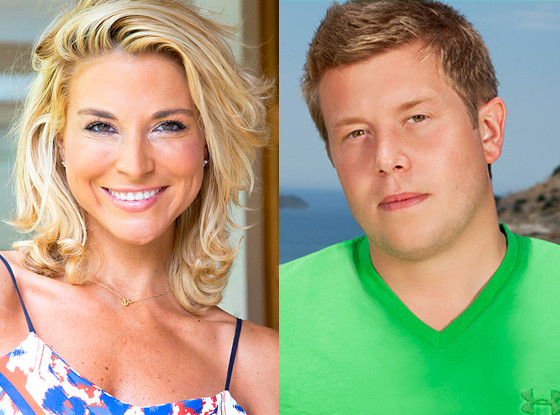 MTV
The Challenge family has had a rough month, to say the least.
Longtime cast members Diem Brown and Ryan Knight tragically passed away so close to each other in November—Brown lost her battle with cancer, while Knight was found dead in the morning after a night out with friends). Real World/Challenge creator Jonathan Murray knows how hard their deaths have hit the closeknit group of Challenge cast members and the fans who have watched them compete on the reality series over the years.
"It has been really hard," Murray tells E! Online. "We get to know these people over the years and it's hard on everybody. Our crews and our producers get very close to the cast. With The Challenge, we filmed multiple Challenges with Diem, and with Knight, we started a journey with him on Real World: New Orleans. He was on a lot of Challenges, too. We've watched these people grow up and we very much feel a part of their family and they feel very much a part of our big family."
Both Brown and Knight filmed the upcoming season, The Challenge: Battle of the Exes II, making their sudden deaths all the more heartbreaking.
"Diem had to leave The Challenge early because of her illness, so it was strange in the sense that while we were filming the rest of The Challenge, and obviously Knight was still alive since he passed away a week or two ago, that Diem was back in New York fighting cancer," Murray says. "We got through that pretty well, but then a few weeks ago, both of them passed away so close to each other in time, it was rough for everyone. We just focused on editing the shows to make sure that we do justice to both these people in making sure that we send them out in a good way."
Was there ever a chance they would not air the upcoming season out of respect for both Brown and Knight?
"No, that never occurred to us," Murray says. "They were both, particularly Diem, such great competitors. Diem loved The Challenge. She talked about it being that opportunity to get away from her cancer. When she's doing a Challenge, she's able to not even think about cancer because she's so focused on competing. She loved being a part of that and we're pretty convinced that Diem and Knight would want this season to air."
Both the network and the show decided to honor Brown and Knight's memories in multiple ways.
Mike Coppola/Getty Images
"MTV just aired a wonderful special, We Love Diem, and it was just beautiful," Murray says. "It's available to watch online. And we also pay tribute to them in The Challenge casting special that will air prior to The Challenge airing. In the show itself, we dedicate it to them and we really looked at the scenes they were in and how we show them, and made sure that we send them out in a really positive way."
For fans worried that watching Brown and Knight on the upcoming season might be too hard for them, knowing they are no longer alive, Murray says watching them will actually be a cathartic experience.
"When I watch them, it actually warms my heart," Murray says. "Seeing them so happy, so enjoying life, so enjoying the people around them, it actually feels really positive in a strange way. There was so much love for them among the cast and that really comes through in these episodes. I think if you're feeling their loss, in a way, it's like gathering with these cast members that you've grown to love and appreciate and going through it with them."
As Murray looks back over the years, he says he's incredibly proud to have known Brown and Knight as he watched them grow on screen.
"Diem was an amazing young woman with the way she battled cancer and the way she was able to do that at the same [times] as she was able to have these relationships and friendships with the cast and the way she was able to commit to these Challenges as such a competitor," Murray says. "With Knight, we watched him mature over the years. He was at times provocative, he could be a little shocking, but I think ultimately he got to a point where he realized he didn't always have to be that or when he was, it was clear that he was doing it because he was having some fun with everyone. You'll see that in this last Challenge he was on, how he got to that point where he was really loved by the other cast members."
The Challenge: Battle of the Exes II, the franchise's 26th season, returns Jan. 6, 2015, at 11 p.m. on MTV.