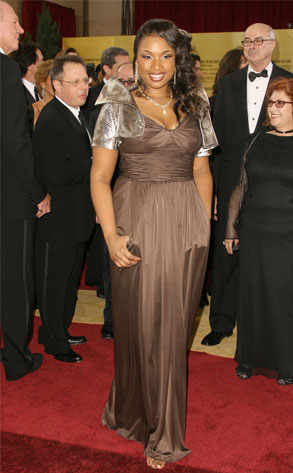 John Shearer/WireImage.com
Why would Oscar winner Jennifer Hudson have worn this space-age bolero over her beautiful Oscar de la Renta dress? Because there was a fashionista throwing a fit—in this case, Vogue's Andre Leon Talley.
According to the New York Post, "Jennifer was kind of sponsored by Talley and Vogue," said one fashionista." Andre insisted she wear that hideous Oscar de la Renta dress with the awful, awful gold python bolero.
"Jennifer really didn't want to, and so [noted stylist] Jessica Paster got her a beautiful gold Roberto Cavalli custom-made. But when Andre found out, he went ballistic. Moments before she left for the show, there was a power struggle, and Jennifer ended up putting on his outfit."
Andre, dahling, what works for a very large middle-aged man doesn't necessarily work for a young ingenue. 'Nuff said.