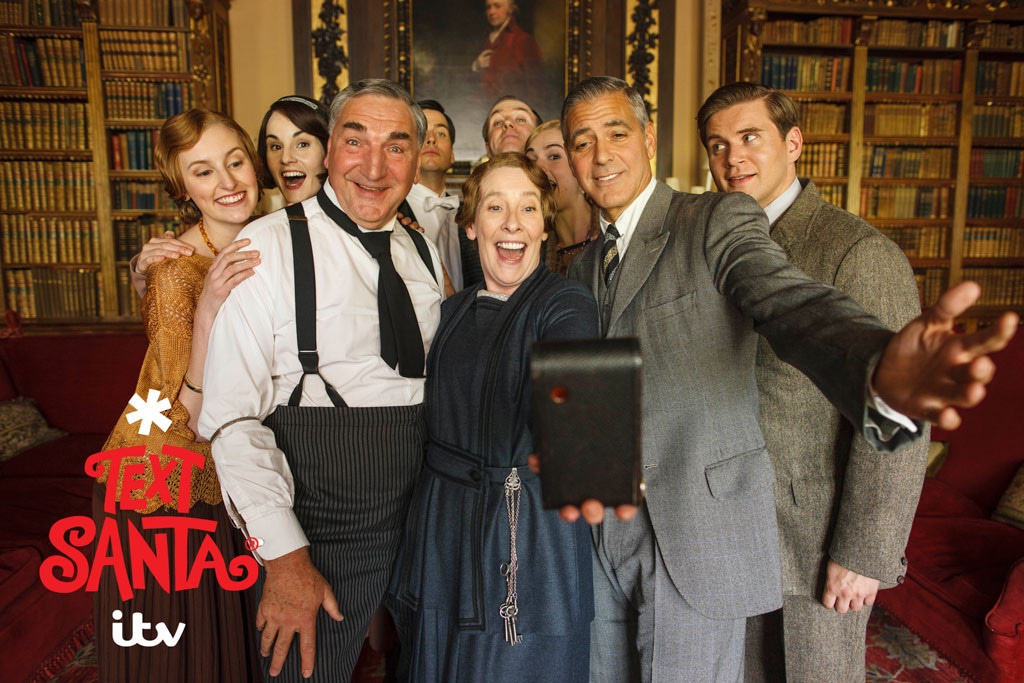 ITV
Lights, camera, selfie!
George Clooney's appearance on Downton Abbey wouldn't be complete without photographic proof that the newlywed fit right with the cast of the period drama, right?
The 53-year-old is shown posing alongside the main characters of the mega-successful miniseries and seems to have no problem being the center (well, slightly to the right, but you get the idea) of attention.
And while Clooney's debut at Highclere Castle isn't exactly for the main show, it is for the network's Text Santa Christmas Charity, which is an annual fundraiser benefiting six U.K. charities.
According to recent report, Downton Abbey star Hugh Bonneville was actually responsibly for getting the Academy Award winning A-lister on board with the philanthropic project.
The Telegraph is currently reporting that the clip features Dame Maggie Smith (who plays the scene-stealing Countess of Grantham) fainting after she gets a kiss from Mr. Clooney himself. And who wouldn't?!
Laura Carmichael, who plays Lady Edith, described the " very brilliant moment" between Clooney and Dame Smith, saying, "George plants a kiss and Maggie ends up on the floor, it's wonderful. He was hilarious."
She continued, "It's amazing and we didn't even know if it would actually happen until he turned up. We were filming away and then heard 'he's here, he's here, he's arrived'....But he was wonderful and so brilliant and I'm very excited for everyone to see it."