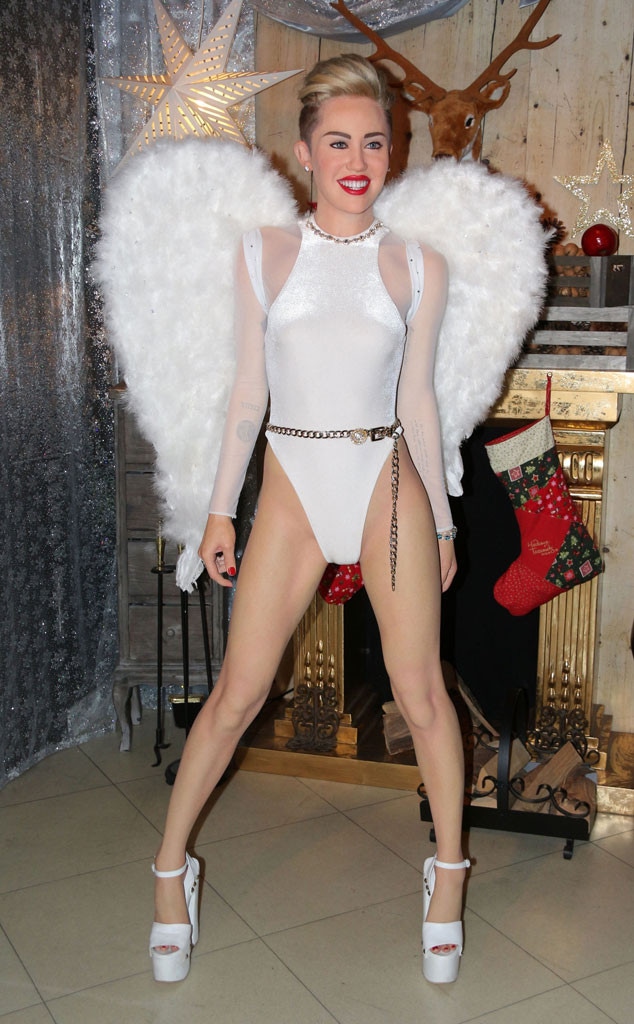 Anita Bugge/Getty Images
Nothing says Merry Christmas like Miley Cyrus' nearly naked body!
Madame Tussauds in Berlin has unveiled a new wax figure of the 22-year-old "We Can't Stop" singer's and the new figure is just as naked as Miley herself.
Miley's likeness is dressed in a very sexy long-sleeved white leotard that is cute and very high on the sides to show off her long legs and hips (and almost her lady parts!). The wax figure's sizzling performance ensemble is complete with white heels, a chain belt and a giant pair of white angel wings. As for her face, Miley's figure is wearing her signature red lipstick and her bleach-blond hair is styled high.
And for some inexplicable reason, Miley's figure is set right in the middle of some traditional Christmas decorations, including a Christmas tree, stockings over the fireplace, a reindeer, presents and more.
Meanwhile, Madame Tussauds New York also has a new A-list was figure in their building: Jennifer Lawrence! The 24-year-old Oscar winner's wax figure is dressed up as her Hunger Games character Katniss Everdeen. It's equipped with everything from her ponytail hairdo, her Mockingjay pin and a gigantic bow with arrows.
So what do you think of Miley and J.Law's new wax figures: totally lifelike or really creepy?