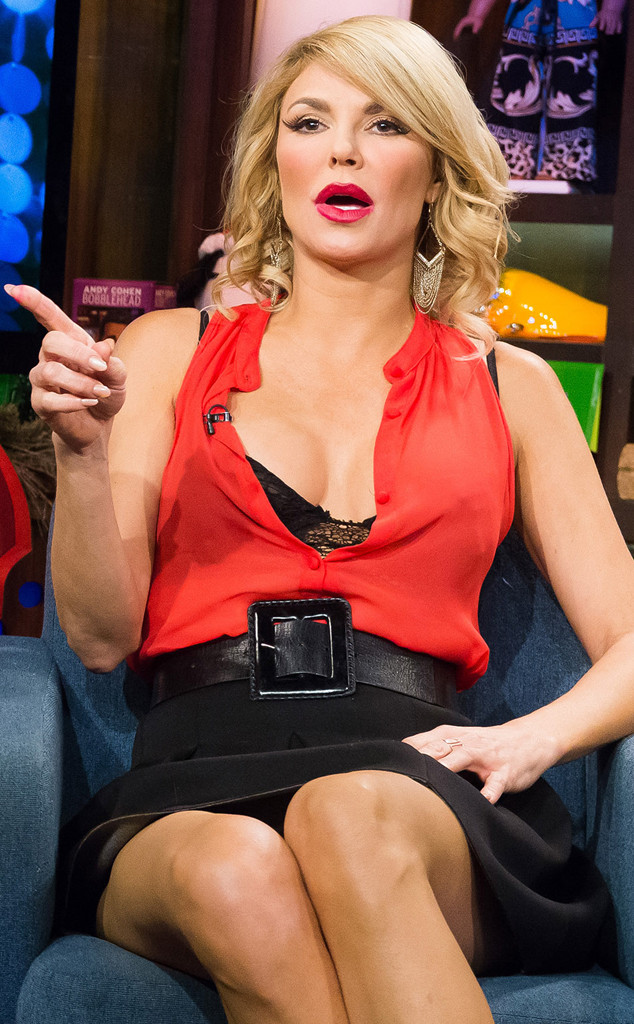 Charles Sykes/Bravo
Brandi Glanville is usually in the hot seat—and completely comfortable being there, no less—but the table turned during her recent guest appearance on Watch What Happens Live!
The Real Housewives of Beverly Hills star sat herself in the interviewer's chair for the first time, grilling Andy Cohen about a range of controversial topics.
And as if you had any doubt, no stone was left unturned.
First up on the list of hot topics was none other than Joanna Krupa. You may remember (or you're still just trying to forget) the gross claim that Glanville made over the model-turned-reality star.
At the risk of getting into the deep, dark, stomach-churning details, here are the Cliff's Notes.
Glanville dissed Krupa by calling her a homewrecker and claiming that her, ahem, lady bits smelled. We kid you not.
Moving on, Glanville asked Cohen about the last time he saw Krupa, saying, "Did you get food poisoning? From bad sushi that night?"
She added, with a mischievous smirk, "She's stunning. You can't help the odor situation."
Then the lovely convo moved onto none other than LeAnn Rimes and Eddie Cibrian. You saw that coming from a mile away, didn't you?
Cohen actually questioned whether Cibrian was good in bed, and if that was the reason the split was so hard on Glanville.
She gushed that her ex is "very well hung and he's good at he does for sure, he's had a lot of practice."
And then there was talk of Rimes wanting, or possibly being on a next season of the hit Bravo reality series.
"I would certainly be intrigued. Frankly, I would love it," Cohen said of wanting to see Rimes and Glanville on the same screen.
"If she wants to be on the show, then we should do it."
And Glanville is totally on board with the idea—can you imagine the drama?!
"Listen, I'm game for it, but then you would have to talk to Mr. Cibrian…who's hated the show and sends letters to you and Bravo…that said, 'No kids, no this, no that.' So it would very interesting all of a sudden to have her say, 'OK.' Listen, I'm game. Bring it."
She added, almost tauntingly, "Bring it! I am not scared."
(E! and Bravo are both part of the same NBCUniversal family.)