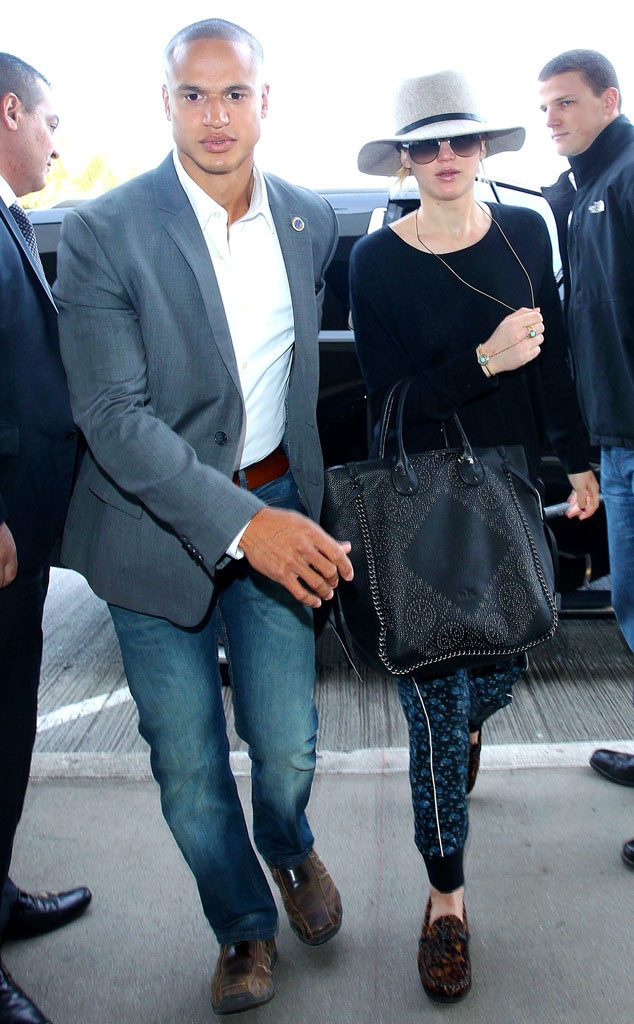 Splash News
It's hard to hold a candle to Jennifer Lawrence, so when a fella manages to outshine her, you better believe we're taking note!
Say hello to J.Law's super sexy security detail! Yes, the handsome, stylishly dressed man standing beside her is actually a hired bodyguard, doing his job and making sure the Oscar winner is safe to go about her business.
And this tall, broad-shouldered babe did just that Sunday as he escorted the Mockingjay star through crowds of people and paparazzi at LAX. Thanks to this sexy stud, she was able to catch a cross-country flight to New York without incident.
Tuesday night, she took advantage of her time on the best coast and made her way to Broadway! At the Booth Theatre, she watched pal Bradley Cooper star in The Elephant Man. She got all dolled up for her Great White Way adventure, looking chic and cute in a leopard coat, striped blouse, skinny jeans and high heels.
Her hunky protector wasn't immediately by her side, but rest assured, either he or a similarly beefy (although doubtfully as handsome) bodyguard was keeping an eye on the situation at close range just in case.
Back to the hot bodyguard, though...It's generally not a good idea to date someone you work with, but maybe J.Law could make an exception?