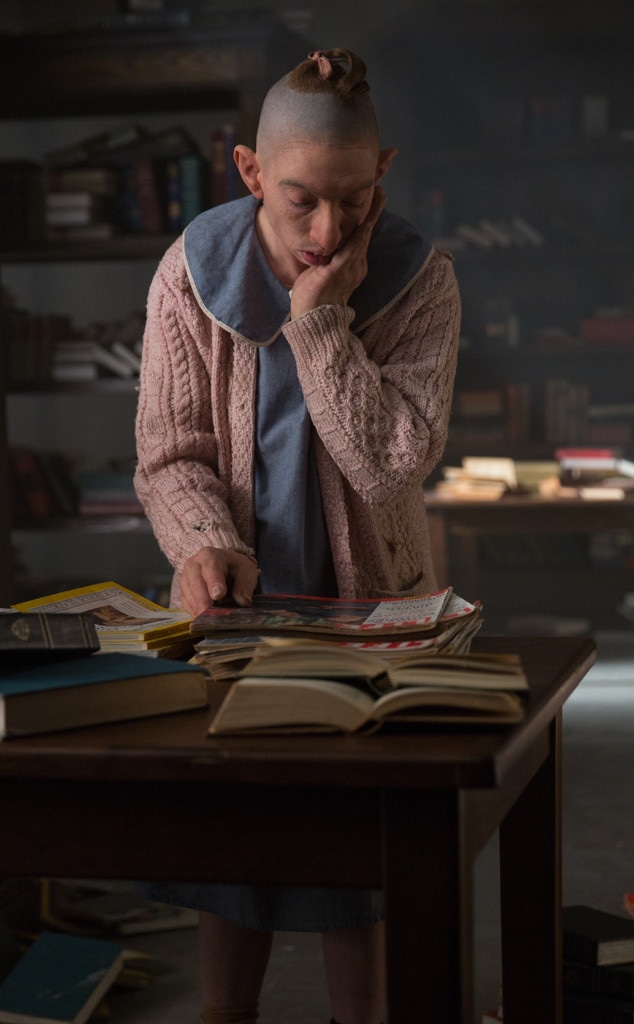 Michele K. Short/FX
When you're done crying thanks to Naomi Grossman's wonderful—albeit heartbreaking—performance as Pepper on tonight's American Horror Story: Freak Show, we'll be here to help you say goodbye. And to cry with you.
Yes, Pepper has left the Freak Show. In tonight's episode, Pepper lost her husband. Before that, her surrogate baby, Ma Petite (Jyoti Amge), was killed. Things weren't going her way. Over the course of this episode, we learned how Elsa Mars (Jessica Lange) found Pepper and really took care of her all these years by bringing Ma Petite in, finding Pepper a husband in Salty (Christopher Neiman) and helping care for her broken heart when everything fell apart.
With Hollywood calling (or so she thought), Elsa decided the best thing would be to reunite Pepper with her sister (Mare Winningham). If you've seen American Horror Story: Asylum, you know that doesn't work out well. But it's even worse than we imagined as Pepper was framed for the mutilation and murder of her nephew and sent to Briarcliff. It's there she met Sister Mary Eunice (Lily Rabe) and will live out her final days. It was the end of the road for Pepper.
"This particular episode took me by such surprise. Because up until now it's been the 'quick shot to Pepper making the idiotic face,'" Grossman tells E! News. "It's not just a quick shot, it's a long, extended close-up upon long, extended close-up of a single tear falling down Pepper's face, it's something I had never done before, honestly. I had done it on stage…I knew I could do this, I've done it, but not for a while. I've been stacking chairs and painting nails for about five months now and so to all of a sudden be endowed with this awesome opportunity was a lot. And like I said, coming from my own background of sketch comedy, the Groundlings, shows on stage, I'm prepared, but I'm not like Jessica in that I don't get to fall to my knees in a crying fit day after day after day. This is my first time."
Read on for more!
Do you have a specific favorite part about Pepper?
I love that she's been given such a full life. The fact that I've gotten to sing, dance, dress down Dr. Arden and now I get to cry on cue—that's pretty major, especially for a little pinhead, who for all I knew was some glorified extra role when I first went out for it. I love the creativity that she's inspired. I'm looking at this wall I have in my place—I practically need to move because I need more wall space. I've got paintings and ceramics, Pepper shakers and Pepper cookies, Pepper magnets, and Pepper magnets. You name it! I've got a Pepper pumpkin. That's really something. These Horror fans are in a league onto themselves.
What will you miss most about Pepper?
Oh my gosh…She was so much fun to play. Like I said, just the range, being able to go from having a temper tantrum with Angela Bassett—throwing things at Angela Bassett, that was really gratifying—to tearing up and saying goodbye to Elsa. I mean, just the dramatic, emotional latitude I was given was awesome. Yeah, I'm really spoiled after that. I love being big characters like this, being able to totally transform myself and not just with the makeup, but physically being able to take on a whole new posture and take on a whole new face. I really look up to actors who totally transform themselves, like the Lon Chaneys of the world...I'm not interested in being one of those actors who—like, so many actors, they're just always themselves. It's so and so being just the same over and over. That doesn't interest me. Obviously, Pepper is unique. I'm not going to play Pepper again unless lightning strikes a third time. I'm going to miss the little girl.
You mentioned the scene with Angela Bassett. You also had some big moments with Jessica Lange and you held your own. What was that like?
I would say, especially with Jessica, when she says like 'We've been together a long time,' it's true. I've been with her now two years longer than I thought I was going to be. This character has been my life for a little while here. Saying goodbye to Elsa was also saying goodbye to [Jessica] and saying goodbye to Pepper and saying goodbye to, well, hopefully not American Horror Story, but potentially, and saying goodbye to New Orleans, which is a new love of my life. So that was a really poignant time for me. I remember reading the episode for the first time and being so jumbled up in so many ways, saying 'Oh my god. This is it!' I was so sad for Pepper, but I was also so sad for me! What does this mean? It means I'm going home is what it means, or at least to Briarcliff and that's good. All this time I thought that being alive was my job security, but little did I know that this was going to be the end, short on some flashback or something like that, which you never really know with American Horror Story. We do know that they didn't have Skype back in the 60s so I can't beam in from Briarcliff.
What do you think about all the shows being connected? Do you have your own theories?
Not at all. I have no idea. I almost wonder if the creators have any idea either. On one level I feel like [Ryan Murphy's] figured out the world. He knows everything, like Santa Claus, he knows when you're sleeping, he knows when you're a wake, but at the same time, the fandom is so engaged to the point where I feel like if I were him, I'd be Googling the show, I'd be reading the message boards, I'd be reading the Facebook posts and picking the theories I liked because the fans are writing it for him. Whether or not he's using it or not, but man they're creative and they're good…
Will you be back next season?
I don't know. I'd like to. You've seen the episode, I haven't. I like to think that maybe this secured my place in the AHS club there, but I have gotten no word….
American Horror Story: Freak Show airs Wednesdays, 10 p.m. on FX. This interview has been edited and condensed.