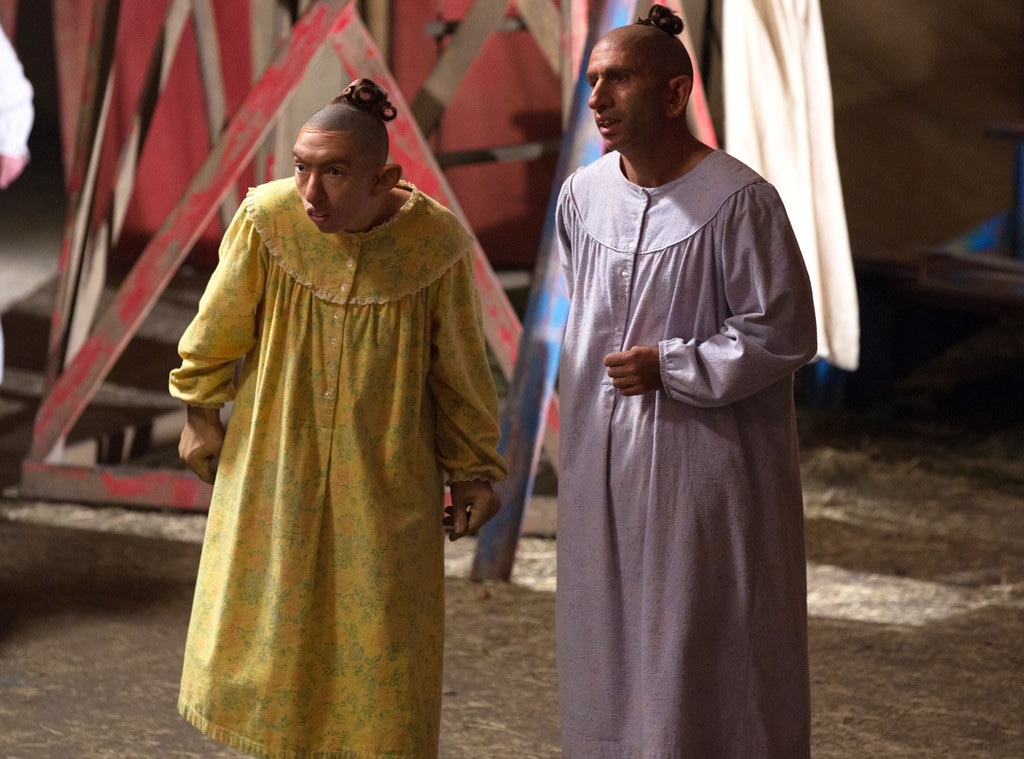 Michele K. Short/FX
It's Pepper's time to shine.
Prepare to see Naomi Grossman's American Horror Story character in a whole new light on the next Freak Show on Wednesday, Dec. 17.
Grossman, whose breakout role as Pepper in the second season of AHS, American Horror Story: Asylum, endeared her to viewers, turns in a heartbreaking performance that will leave viewers grabbing for the tissues. We first met Pepper in the premiere episode of Asylum when she asked Lana Winters (Sarah Paulson) to play with her in the Briarcliff yard and that's where we say goodbye. The character returned as part of Fraulein Elsa's Cabinet of Curiosities in the fourth season, but Grossman didn't know she'd get to fully explore the harrowing tail of Pepper.
"I figured they'd bring me back for a reason and it wasn't just to paint Elsa's nails," she tells E! News. "Ryan did tease early on that this would be her origin story, so, yeah. But at the same time it's been 10 episodes of painting nails, so there was definitely a moment where I thought, 'Hmm, where is this going?' It did take me by surprise when it finally happened."
As for that origin tale, well, it's a whopper. "Phew, it's momentous. I think it's beautiful, I think the story they wrote for me is infinitely lovelier than even the one I created for myself. It's a roller coaster," Grossman says. "Like any AHS character, it's complex and full—like an onion you keep peeling away and there's just more and you cry and cry and cry."
For Grossman, she was as just in the dark as viewers were when it came to Pepper's story. "It was a shock," she says. "I had nothing. All I had was basically whatever had come in previous scripts. Elsa made mention of finding us at an orphanage, gnawing on rats. So I had that, and that's pretty much it. I only had what pretty much viewers had, and that was what I had seen or read before. There was never a conversation and it totally took me by surprise."
Pepper has stolen the show on more than one occasion, from her role in Asylum's "The Name Game" to chanting meatloaf in the Freak Show diner, and those are just some of the reasons why fans have fallen hard for the microcephalic.
"Gosh, it's all so complex. I think her naivety is really refreshing, especially in this world of villains, rape and horror to see this innocent soul, to kind of see the world through her eyes is really refreshing," Grossman says about the fan appreciation of Pepper. "I think knowing that—the transformation, I think, is also really incredible for people. Knowing that this beautiful woman—I'm saying that in a sarcastic tone, by the way—can be transformed into this ugly creature. That's pretty cool. It says a lot about the makeup team, [Ryan Murphy's] imagination, and me of course…She's playful, yet wise. She seems naïve, yet all-knowing. She's the victim, yet the advocate. Things in American Horror Story are never as they seem and Pepper is the perfect example of that. So, I think on a theatrical level with the transformation, I think on an emotional level…just looking at her, I think on many levels she appeals to audiences."
The episode, "Orphans," tells Pepper's story all the way through the 1960s and her entrance to Briarcliff and airs tonight (Wednesday, Dec. 17) at 10 p.m. on FX. After the episode, check back with E! Online for more about Pepper's big moment and what's ahead.