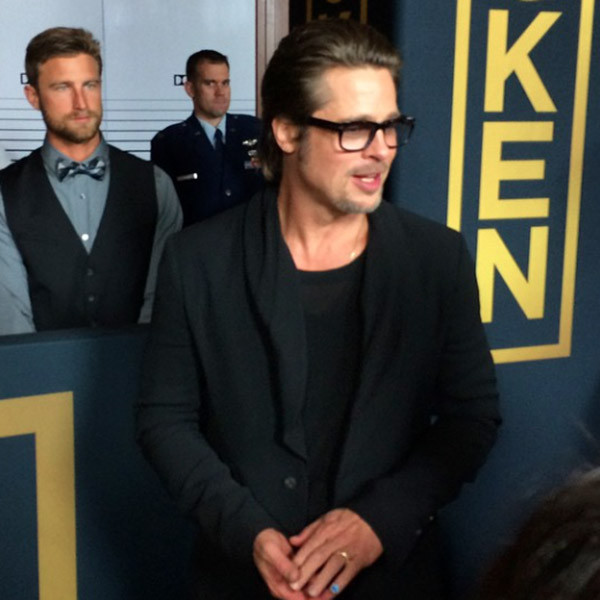 Instagram
Brad Pitt isn't in Unbroken, but that's not about to stop him from promoting the World War II drama on his wife's behalf.
For the second time in as many days, Pitt stepped in for his missus, Angelina Jolie, to help push the movie's big Christmas Day release because she is still stuck at home with chickenpox.
"Her spirits are high," Pitt told me at the Unbroken premiere tonight at the Dolby Theatre in Hollywood. "A little spotted and a little itchy, but her spirits are high." The Fury star hit the event with sons Pax and Maddox and daughter Shiloh, as well as his parents—so at least he wasn't lonely.
Jolie announced on Friday that she was pulling out of all Unbroken events for the near future because of her illness.
David James/Universal Studios
"I just wanted to be clear and honest about why I will be missing the Unbroken events in the next few days, which is that I found out last night that I have chickenpox," Jolie said in a video released on Universal Pictures' YouTube page. "So, I will be home itching and missing everyone, and I can't believe it, because this film means so much to me. I just can't believe it. But such is life, there it is. And send everyone my love, and hope everything goes well."
Stars of the film, including Jack O'Connell, Miyavi, Garrett Hedlund and Finn Wittrock, were among those also at tonight's premire as were members of Louie Zamperini's family were also there. The film tells the story of Zamperini's two years as a POW after his plane crashed into the ocean during WWII.
Pitt first appeared in honor of his wife last night when he was among the guests at the Unbroken Roger Deakins Image Exhibition presented by Universal at the AMC 14 Theaters in L.A.
Until Friday, Jolie was circling the globe in support of the movie. She took part in press junket in New York City, appeared on The Daily Show With Jon Stewart and the Today show and attended premieres in London, Paris, Berlin and Sydney. She was also a presenter at the Hollywood Film Awards.
No word on when Jolie's plans to return to work.
Unbroken is in theaters on Christmas Day.
Related:
Brad Pitt Gives Health Update for Angelina Jolie