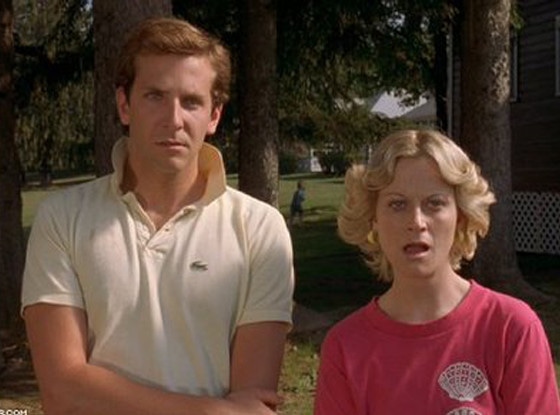 USA Films
Looks like the Wet Hot American Summer sequel you've been dreaming of since 2001 is moving forward at Netflix!
UPDATE: Both Deadline and The Holllywood Reporter now report the Wet Hot American Summer series will feature most of the original cast. Deadline reports the show will be eight episodes. Netflix declined to comment, but at the 2015 TCA Winter Press Tour, Netflix's Ted Sarandos told press that the company is "really excited about the proposition about getting the show back together. More to come."
Previously...
The cult-hit film starring Bradley Cooper, Amy Poehler, Paul Rudd and other notable stars is slated to get a miniseries that will begin production in January, sources reveal to E! News.
So far Netflix has not confirmed the news and none of the original cast has been confirmed to appear. However, during a Reddit AMA two years ago, co-writer David Wain said the original cast would return for the planned sequel. The movie's cast included co-writer Michael Showalter, Poehler, Cooper, Christopher Meloni, David Hyde Pierce, Molly Shannon, Janeane Garofalo, Marguerite Moreau, Michael Ian Black, Ken Marino, Elizabeth Banks and Joe Lo Trugilo.
Wain, Showalter, Jonathan Stern, Peter Principato and Howard Bernstein are on board as executive producers, according to sources.
News of the prospect of the sequel series first broke in May with Deadline reporting Netflix was in talks to house the project. Talks of a sequel to the flick has been rumored for years with the original plan to have it take place 10 years after the events of the original movie. The madcap movie followed a group of summer camp counselors in 1981.
Netflix being home to the Wet Hot American Summer sequel series makes perfect sense. The streaming giant made its original programming mark by reviving Arrested Development. Netflix also gave new seasons to The Killing and Longmire, along with originals shows Orange Is the New Black, Hemlock Grove, House of Cards, Marco Polo and the upcoming Bloodline, Daredevil, AKA Jessica Jones and more.
Originally published on Monday Dec. 15, 2014, 2:09 p.m. PT