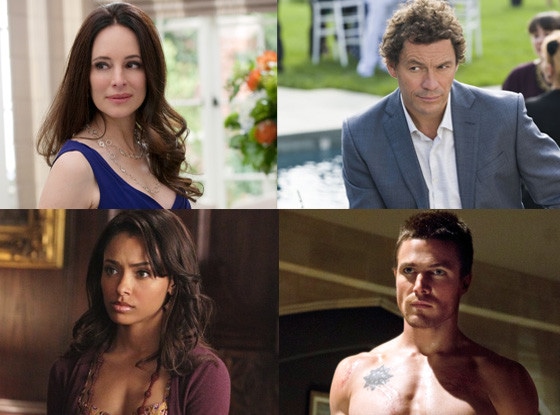 The CW, ABC, Showtime
Merry merry! Santie Spoiler Claus heard you loud and clear that all you want for Christmas is scoop on your favorite shows. Well, here it is. But don't blame us if some of it causes your heart to shrink three sizes! (Ahem, Reign, ahem, American Horror Story, ahem, Arrow. Ahem, sob, sob, sob.) But Once Upon a Time fans do still have plenty to be happy about....Read on for the scoop!
harris2121: after Daniel's death on #Revenge, will something change between Emily and Victoria? Or does their hate grow?
Expect to see a major shift in the duo's dynamic after Daniel's death…and David's past deeds come to light.  "Emily will have to learn what her father was really about and see the David-Victoria relationship for what it actually is, which is something that will help deepen her relationship with her father," showrunner Sunil Nayar teases of our badass heroine in the second half of the season.
AliSomebody: Anything about Bonnie/Jeremy pleeeeease
If/when Bonnie ever does get out of the prison world and back to reality on The Vampire Diaries, Jeremy is going to notice some pretty major changes in his girlfriend. That burning Christmas tree was a symbol for Bonnie letting go of her past. ""It was definitely symbolic," executive producer Caroline Dries told us. "Bonnie was trying to see the silver lining in her situation and get out and enjoy a day where she could celebrate and reminisce and not feel sorry for herself. She tried to take the high road, and she did, but by the end of the day she realized, 'This isn't working. I'm alone here. This sucks. Screw it.' This first chapter of Bonnie being stuck in this prison world is over, and a new badass Bonnie is emerging." Badass Bonnie? We are here. For. This!
Andyouloveher88: what's coming up for Arrow when we come off winter hiatus? Possibly for Felicity, Diggle or Roy.
How about all three? You know Oliver's huge death in the finale? Yeaaaah, expect that to stick as we're hearing the trio might go more than a few episodes without their hooded leader.
Teresa: American Horror Story details or I go call Twisty on you.
Thanks for making my nightmares worse! OK, here it is but you're not gonna like it: Get ready for heartbreak. Pepper gets the spotlight this week and there won't be a dry eye in the house. Plus, we get a hint at how this year will end. Perhaps a happy ending for one of the characters? 
Andrew: The Affair finale is basically my TV Super Bowl. What can we expect?
A time-jump! Noah to get into a major altercation with not one, but two of the Lockhart brothers! A major reveal about Det. Jeffries' personal life! No Oscar! And. So. Much. More.
Cschumacher1981: just #themindyproject updates please!
MC Rishi Pieces is in the house! Mindy's baby bro is set to make his return in episode 16, which also feature the debut of Mindy's dad! Well, his voice anyway! (Psst…the show is also changing the role of Danny's little sis, Danny, who will be a bit older and more angsty/goth when we see her next!) 
Madison: I loved the Christmas special so much, so do  you have anything on Pretty Little Liars' 5B?
Sorry Liars, but a new "troublemaker" is being introduced in Rosewood in 5B! "In the episode where Mona met her demise, she was talking to her friend Lesley on the phone that day and we finally get to meet Lesley," Marlene King spilled. "She comes to town." 
Natalie: Anything on Nashville?
Will and Layla's fake marriage? It's so totally O-V-E-R! When Nashville returns in the new year, expect to see the fake couple's fake marriage end in a real divorce. 
Jackie: In desperate need of Reign scoop!
Your desperation may cause you some pain we're afraid as the grim reaper is heading to French Court. "I would say there's a death of a large character," showrunner Laurie McCarthy spills. Guesses on who?
Monroe: Anything on Glee?
You saw the first promo with Lea Michele singing "Let It Go," yes? We have so many mixed emotions about this final season, particularly after attending the big wedding shoot last week. But unfortunately, we can't talk about any of that until it gets closer! Sad trombone. Oh, and for the record, I'm just as confused as you are as to why Blaine's mom is named Pam Anderson! #weirdness 
Annie S.: We never get any spoilers on NCIS. So not cool!
Consider this my early Christmas gift for you: "Our Christmas episode is coming up and it's actually called House Rules and it's kind of anchored and centered around my character," Sean Murray says of the McGee-centric ep. "It's got some surprise to it and some really good stuff in it and I can't really divulge a lot of what it is because it's got a bit of a twist to it." 
teenie113: I need to know anything and everything about #HartofDixie! #SpoilerChat
Is your head still reeling after last night's major baby reveal? Zoe is pregnant with Wade's baby, y'all! But don't assume that this awesome news means "Zade" is going to live happily ever after with their impending bundle of joy. In fact, the next episode is going to be all about Zoe figuring out how she's going to raise this baby, and if Wade is even going to be involved in the baby's life at all! 
Margaritelee: Anything on Once Upon a Time, please! Particularly the Evil Queen and Robin Hood! Is it totally over?
Definitely not! Robin is still very much a part of the show and trust me, you don't want to give up on hope for these two just yet! Also on OUAT: The Queens of Darkness are BADASS, as you will see when the show returns, and share a lot of history with all the characters we know and love. Especially the Evil Queen.
greenleo1: Any good #Bellarke moments in The 100 mid season finale? I hope so. Something to hold us over the hiatus after it...
Let's just say that any shipper-related wishes are going to take a backseat to all the crazy s--t that goes down in the midseason finale. The final scene in particular is so insane, so shocking, and just all-around so brilliantly devastating that honestly, romantic moments are going to be the last thing on anyone's minds. As a result of what happens, the show is never going to be the same again for anyone. Don't say we didn't warn you…
MonicaGirl: Is it really over for Abby and her hot hubby (Paul Adelstein) on Girlfriends' Guide to Divorce? I'm kind of rooting for them!
Yes, it's definitely over and he will be sticking with the CW starlet for a while. But don't worry, she has some really great love interests coming her way, too! We'll also have a very cool look at the amazing set design on that show a little later today, so check back!
Spoiler Chat is new every Tuesday on E! Online. BOOKMARK THIS PAGE so you can always find it!
Be sure to send in questions via Twitter or Facebook. WE NEED YOU!
TWITTER: Follow @kristindsantos!

—Additional reporting by Tierney Bricker, Chris Harnick, Sydney Bucksbaum and Alyssa Toomey