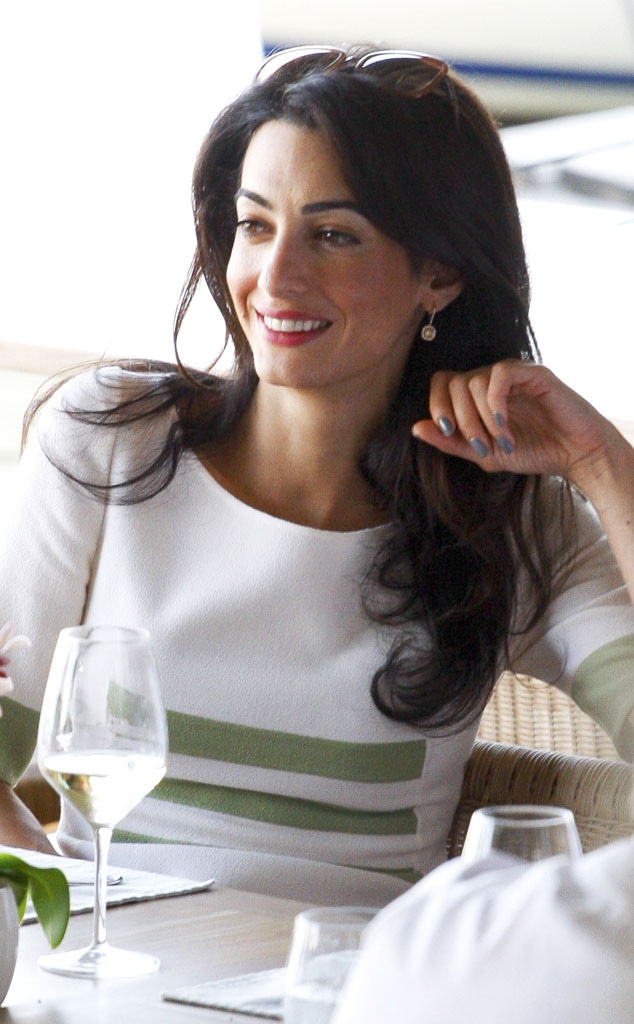 FameFlynetUK/FAMEFLYNET PICTURES
 Better luck next year, Taylor Swift.
The "Blank Space" singer, 25, was deemed the second most fascinating person of 2014. Instead of giving the singer-songwriter top honors, Barbara Walters gave Amal Clooney (née Alamuddin) the No. 1 spot. "How do I introduce her?" the host asked. "I guess the question is, 'What does it take to fascinate one of the most fascinating men in the world?' She is known primarily through her spouse, and while we know little about her, we know a great deal about him. And he has fascinated many women—especially me."
Barbara noted that Amal, 36, is now "in that stratosphere that we reserve for the Jackie Os, Princess Dis and Kate Middletons," meaning that "everything she does, says or wears is officially fascinating." The journalist said the Clooneys had "the wedding of the year" and joked that Amal was responsible for one of the "greatest achievements in human history"—locking down Hollywood's most legendary bachelor.
"Everyone said that no one would get George Clooney to the altar. In fact, George Clooney—who had been married briefly in his 20s—said it himself, to me, in 1995," Barbara said before showing archival footage. When she interviewed the actor again in 2006, the two laughed over the interview's resonance.
Before Amal entered the picture, George dated many women—and Barbara even joked that the various women were "like climbers attempting Mt. Everest," calling them a "bevy of beautiful women" who "threw themselves at the unattainable—and failed." She then briefly highlighted exes Kimberly Russell, Celine Balitran, Lisa Snowdon, Sarah Larson, Elisabetta Canalis and Stacy Keibler. Suffice to say, "Amal is a little different," Barbara said in a voiceover. "Like Clooney, she is passionately committed to human rights causes. Like Clooney, who has a father who was a journalist, she has a mother who is a journalist. And like Clooney, she is a star in her own world."
Born into a "prominent Lebanese family," Amal moved to a London suburb with her family as a child. She went to the University of Oxford, received a law degree at New York University, and while in New York, clerked for then-federal judge Sonia Sotomayor. When she returned to London, Amal became a respected human rights lawyer with clients such as Kofi Annan, Julian Assange and Yulia Tymoshenko. Barbara noted that she did all this "while looking gorgeous." Amal met George during a charity dinner in Italy, and according to Barbara, it was a "perfect match." How so? "He is perfectly handsome and suave. No one wears a suit better or his fame more lightly," she explained. "[Amal] also wears a suit incredibly well and is even more perfect when she speaks. Their wedding, of course, was also perfect, from the transportation to the post-wedding brunch outfit to the wedding dress made by the late-great Oscar de la Renta to her custom-made hat. Amazingly, Amal has been the subject of very little snark or envy, maybe because we, like George Clooney, find it impossible to resist perfection, or maybe because it is heartening to think that no matter how long it may take, a perfect someone is out there for everyone."
The nine other people profiled in 2014's TV special were Scarlett Johansson, Neil Patrick Harris, David Koch, Oprah Winfrey, Chelsea Handler, Michael Strahan, Elon Musk, George R. R. Martin and Swift.
Amal, who was not interviewed for the segment, joined a list of "Most Fascinating People" that includes Nelson Mandela (1994), Bill Clinton (1996), Prince William (1997), Mother Teresa (1998), Lance Armstrong (1999), Barbara Bush (2002), Camilla Parker Bowles (2005), J. K. Rowling (2007), Barack Obama and Michelle Obama (2008 and 2009), Steve Jobs (2011) and Hillary Clinton (2003 and 2013).
Do you agree that Amal Clooney is 2014's most fascinating person?
Sound off in the comments!