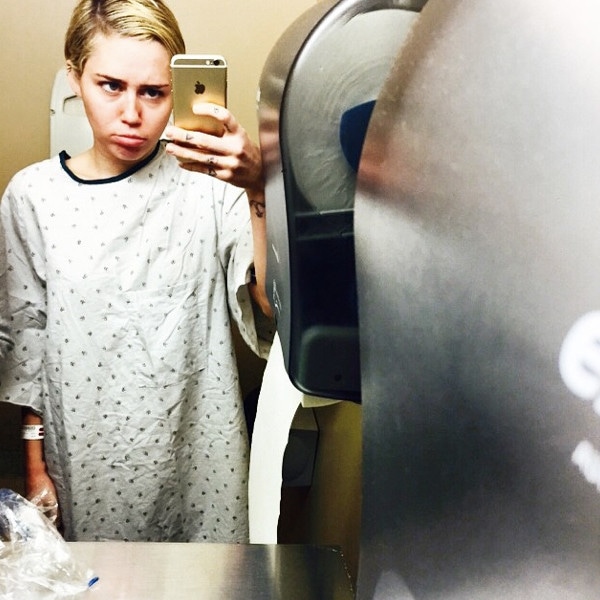 Instagram
Ouch! That looks painful. REALLY painful.
Miley Cyrus recently underwent surgery to remove a cyst from the inside her wrist and the operation was performed on Friday, a source told E! News exclusively. It was a scheduled outpatient procedure, another source said, adding, "She's doing fine."
The 22-year-old pop star is maintaining her sense of humor about it: She had on Friday posted on her Instagram a photo of herself wearing what appears to be a hospital gown, which she deemed to be "sooooo hipster," as well as extremely graphic photos of a surgical procedure.
She also shared several photoshopped versions of what looks like her wrist (characterized by what appears to be her "Wukong" tattoo) with a wound showing raw flesh and held open with surgical instruments. It is unclear if the pics are authentic or who took them.
Here is a censored version of one of them.
"I have pizza in my veins," she wrote in one caption, alongside a pic of a pizza slice graphic inside the wound.
Among the other photos seen in other variations of the graphic pic: Images of Justin Bieber, Elvis Presley, a smiley face and her late dog, Floyd.
"Omg Floyd veinz," she said.
It is unclear what kind of cyst Cyrus had removed.
Lumps found on the wrist or other parts of the hand are usually benign. One of the most common types are ganglion cyst, which are sometimes called "Bible's Cysts" or "Bible Bumps." Some go away on their own, while others require surgical removal if they start to cause pain or discomfort.
This is not the first time Cyrus has shared eyebrow-raising pics, including injury photos, on Instagram. She has in the past posted images that show her bleeding, as well as a slew of naked or other racy photos of herself and a shot of a homemade bong she had crafted from fans' gifts.
—Reporting by Ken Baker