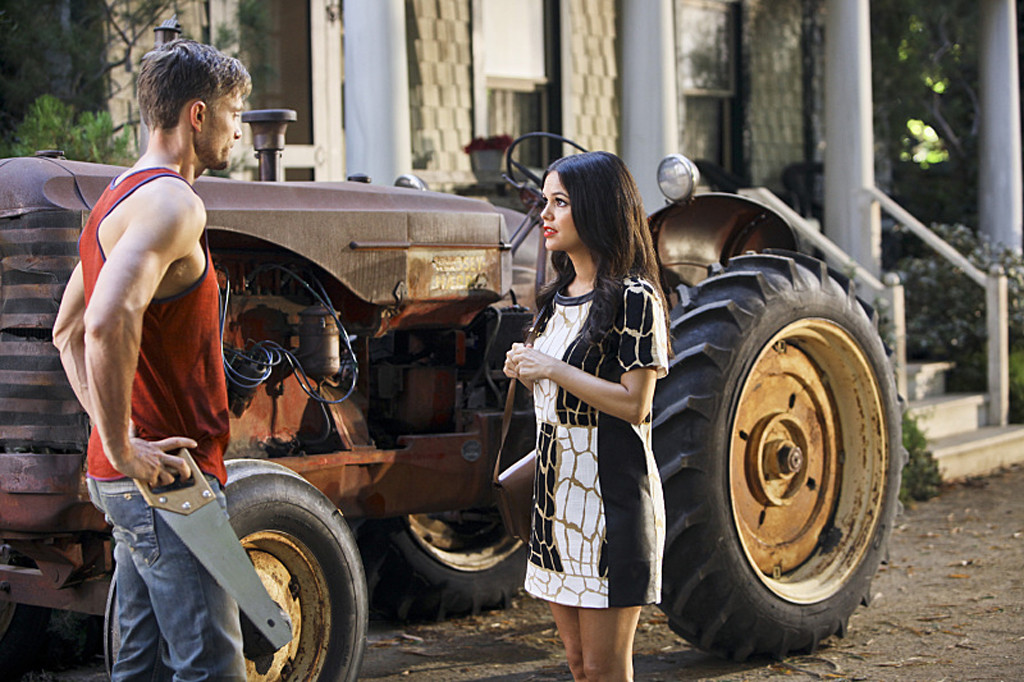 Patrick Wymore/The CW
Fans of Hart of Dixie's central love story—Dr. Zoe Hart (Rachel Bilson) and Wade Kinsella (Wilson Bethel)—have had a tough go of it the past two years.
First Wade cheated on Zoe, and then Zoe left town and got a new boyfriend, and then Wade dated Zoe's cousin...it seemed like these two star-crossed lovers would never find the right timing to get back together. As soon as one opened up to the idea, the other was not, and then vice versa.
But all that patience is about to pay off, because season four of the CW's southern rom-com is going to focus heavily on Zoe and Wade's relationship!
As Zoe professed her love to Wade in the season three finale, Wade may have rejected her proposal of starting over, but executive producer Leila Gerstein told us that Zoe is not going to give up on the love of her life.
"When Zoe sets her mind to something, she is not about to let it go," Gerstein said. "Of course, because she's Zoe, she sets about it all wrong. She begins the season trying to get Wade to ask her on a date to the movies and Wade is like, 'I expected more effort from you.' So she has to up her game throughout the course of the premiere. She's going to try to make a grand romantic gesture and when that doesn't work, she tries to seduce him."
Yeah, you read that right! Zoe. Tries. To. Seduce. Wade! That's certainly a nice change of pace from all last season when Wade was pursuing Zoe to no success, and Gerstein is excited to show that.
"After all this time where it's been Wade going after Zoe, it's really satisfying and good to see that position switched and see Zoe having to fight for Wade," Gerstein said. "Zoe and Wade fans are going to be so excited to see that despite all the pushing and pulling and fighting and the uncertainty, when these two people get together there is a spark. There is more than friendship, there is real love between them. They clearly should both get over their issues and be together. Zoe and Wade belong together and they're destined to be together."
Did you hear that? That was the sound of our hearts bursting!
But that squee-inducing scoop on Zoe and Wade's relationship isn't the only info we got from Gerstein. She also revealed that George (Scott Porter) and Lavon's (Cress Williams) individual epiphanies about still being in love with Lemon (Jaime King) are going to throw a major wrench into their bromance.
"We're going to have a lot of fun with George and Lavon's new rivalry right in the first episode," Gerstein said. "They're both in charge of Bluebell's brand new fire department and they're supposed to set a good example on working together and being partners. But of course, they're both furious with each other because they were both blindsided by the fact that the other was still in love with Lemon. It plays out in a funny way throughout the premiere."
And get this: there's going to be a major time jump in the premiere!
"We have a big time jump in the episode so by episode 2, because Lemon has returned with a new boyfriend who they're both suspicious of, they have to work together to overcome their current hostilities," Gerstein said. "They are going to try to expose this guy who they believe is playing Lemon. But it turns out that he and Lemon are actually in cahoots! So Lemon will be quite angry at both of them if they ruin her charade."
Someone who won't be happy to hear about Lavon's rekindled feelings for Lemon? Lemon's BFF and Lavon's ex Annabeth (Kaitlyn Black).
"Annabeth also doesn't know how Lavon feels about Lemon, and this is something that everyone is going to try to keep from Annabeth for as long as possible to protect her," Gerstein said. "But Annabeth has a lot going on for her this season, and by the end of this season she'll be working towards reinventing herself. She will find a new career and new love."
But the love story that we can't get enough of is Crickett's (Brandi Burkhardt)! After coming out to the entire town just as she was about to marry her longtime boyfriend, Crickett is going to be rediscovering herself as a lesbian throughout the entire season.
"Crickett is going to embark on her first relationship with a woman," Gerstein said. "We're going to see that journey. We're also going to see Crickett as a great friend to Annabeth and Lemon, and she'll continue with her particular brand of hilarity. But I'm so excited to see her new relationship evolve."
Hart of Dixie season four premieres Monday, Dec. 15, at 8 p.m. before moving to its regular time slot on Friday, Jan. 9, at 8 p.m. on the CW.