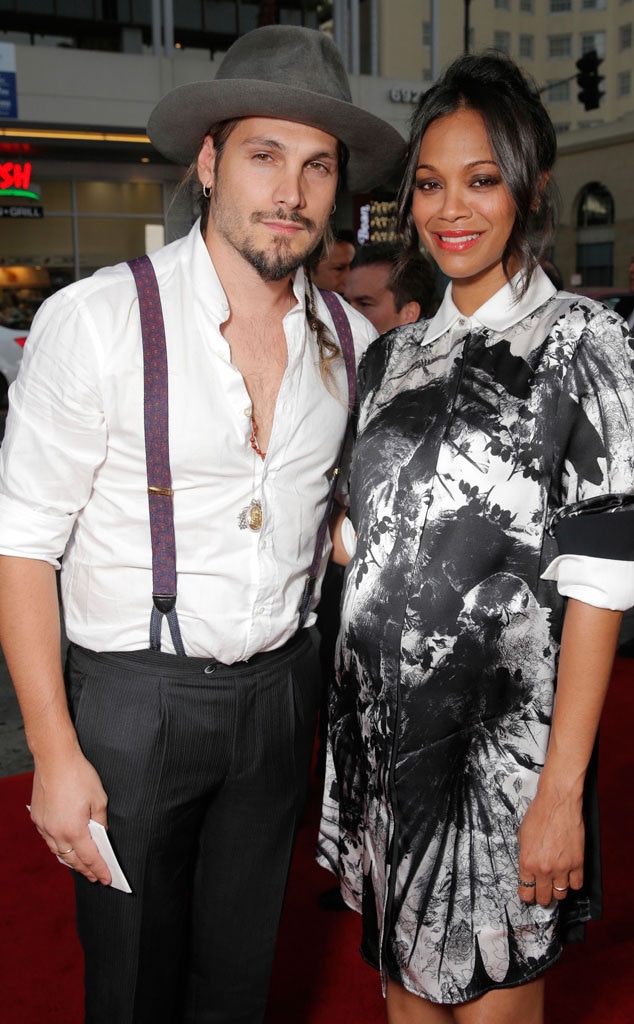 Todd Williamson/Invision for Pantelion Films/AP Images
Special delivery!
Zoe Saldana and Marco Perego have welcomed twins, their first children together.
"She had her twins" and she and Marco "are both so excited," a source tells E! News. "They are surrounded by family and friends. All that matters now to Zoe and her husband is that the babies are healthy."
The 36-year-old actress and the 35-year-old artist quietly got married in England in the summer of 2013. Saldana's pregnancy was revealed on July 23, and the next day, E! News learned that she was actually expecting two babies.
Multiple sources later confirmed to E! News that Saldana and Perego had twin boys on the way.
London's Daily Mirror first reported yesterday that Saldana had given birth.
Whether because he had insider information or had gotten wind of the rumors, designer Prabal Gurung Instagrammed his congratulations earlier this evening, captioning a pic of Zoe in one of his creations: "Congratulations to my dearest darling friend and my muse @zoesaldana (and her husband ) on the arrival of their twins. xPG #fbf #PGred #firstdressidrapedfromthefirstcollection #fall2009 #wwdcover #startrek #premier #pgmuse #femininitywithabite #zoesaldana #consistentshoes."
In addition to being adorably forgetful while pregnant (she called her husband "Michael" instead of "Marco"), Saldana had a healthy appetite. "You find yourself driving around bakeries, over and over, drive-thrus," she admitted on E!'s Untold With Maria Menounos in November. "Like, what am I doing?"
The actress never worried whether she would be "ready" for motherhood. "It's almost like a redundant question, because whether I'm ready for it or not, it's inevitable," Saldana explained to E! News while promoting the Golden Globe-nominated Book of Life. "I'm there. I'm in it. I'm gonna have to be ready."
While two newborns will keep the first-time parents on their toes, Saldana has long said she wants a big family. "I'm Latin—we start young, honey!" she admitted on Lifetime's The Conversation With Amanda de Cadenet in April 2012. "At 22 you're like, 'I just wanna hold something!' You want a little critter." In fact, she said she wants at least "two or three" kids. "Or four or five! I don't care," she revealed. "They're just so delicious. I love the anxiety, the pressure of the loud room full of yapping kids. But I'm a kid myself. I get along very well with animals and children. I dig them. I get them. They make perfect sense to me. A child makes perfect sense to me. A child speaks more sense than an adult half of the time."
She also has several blockbusters scheduled in the coming years. "I know that we will work everything out," Saldana told Entertainment Weekly in October. "I have to say, I'm very lucky. The great thing is that all the producers and creators involved in the projects that I've done—Avatar, Star Trek and [Guardians of the Galaxy]—they're very good people. So, they've been very understanding, especially with what's happening in my personal life. I've gotten nothing but support. To know that we are getting to that place where women can have that support from male driven workforces is—I have to say, it's very inspiring." With a hearty laugh, the actress added, "They don't have a choice! I'm not going to rip my child off my tit to go work. And if I do that, then maybe you shouldn't hire me because I am willing to sell anything."
"The good thing is that half of the people you work with are all parents, and they get it," the actress said. "They probably have strong wives at home that are probably going to look at them going, 'Are you out of your mind?!' See, it's having strong women around you! Once we all come together, it's perfect."