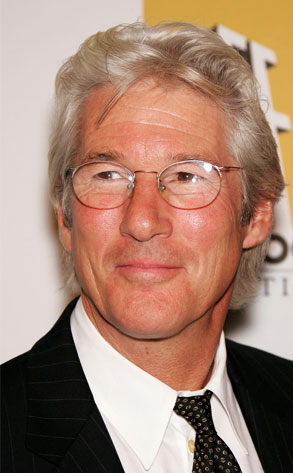 Lisa O'Connor/ZUMAPress.com
So, it's not Mother's Day. So what?! Is there a daughter out there who hasn't bonded with her mom over the lovely wonder that is Richard Gere?
The perennially foxy actor-activist allowed journalists to swarm like bees during a cocktail party held in his honor last week at the Beverly Hilton. Gere was set to be given a lifetime achievement award. And this is all linked, of course, to the DVD release of The Hoax. (Netflix it!) It's the one in which Gere plays that guy who pretended to have an in with Howard Hughes and sold a fake book about it. See it also for Alfred Molina, who is perhaps the most appealing best friend ever.
So, I was there because Hoax was great, and also because somehow, deep down, I knew I would be the lucky one standing right in Gere's face. I did it for you, Mom!
1. He's Polite: On The Hoax: "I wish it had done better, commercially. But I think most people will see this on DVD. Alfred Molina should get attention."
2. He Respects the Ladies: I ask him about his upcoming onscreen reunion with Diane Lane in Nights in Rodanthe, because Unfaithful is on my permanent top 50 list. "I'll do anything with her. I think she feels the same way about me. To have a good script, a good director, an adult love story, there's no way this wouldn't touch a lot of people."