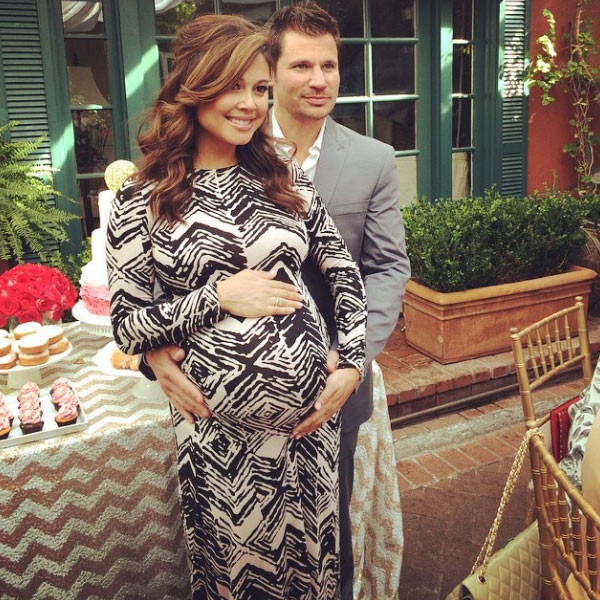 Instagram
It's almost time!
Vanessa Lachey has been flaunting that growing baby bump with style, and soon enough the world will be meeting her baby girl. There's probably no one more excited for that moment than the beautiful pregnant star, husband Nick Lachey and soon-to-be big brother Camden.
"She is over the moon! She is a very dedicated mother," Lachey's interior designer Tiffany Harris , co-owner of Layla Grayce, tells E! News. "She is very focused on giving her children all the love and educational opportunities. Nick and Vanessa are very hands-on parents. Camden is like a Mini Nick!"
And as we anxiously await the sight of another surely adorable addition to their family, the famous parents are also making sure things are ready for their daughter's arrival.
Harris worked with the Lacheys for Camden's wonderful nursery, and now the designer has teamed up with the duo again to create the perfect room for their baby girl.
"I worked on the nurseries for their Los Angeles home and also their Cincinnati  home," Harris tells us. "They have a permanent residence in Cincinnati and Nick and his brother are currently filming a new reality TV show called Lachey's Bar there. The Cincinnati nursery will be revealed on the TV show. It's very French vintage, timeless, soft pink with crystal accents. It's completely the opposite of the LA nursery."
So what she expect in her West Coast home? "The LA nursery is sophisticated, bold, modern, with a touch of glamour. We went for a Hollywood cerise pink—very bold. There are some interesting paint treatments in the room, too."
Vanessa has also been very involved with the decorating process. "Vanessa has an incredible eye for design. She really is open. She is taking risks in the L.A. nursery," Harris explains. "It's very L.A., very modern. I presented this look and she just went with it. It's very grown-up for her and it's completely the opposite of Camden's nursery which was soft and coastal."
So just how far in advance does a job like this take? "Typically 4-5 months," Tiffany tells us. "Vanessa waited until she knew what the sex of the baby was. Then she purchased everything through Layla Grayce and Zinc Door."
Nick and Vanessa revealed they are expecting another baby together back in July.
"Can't think of a better way to celebrate 3 years of marriage to my beautiful @VanessaLachey than this! #family," Nick wrote on Twitter at the time, and included a photo that announced, "It's a girl!"
Can't wait to see her!