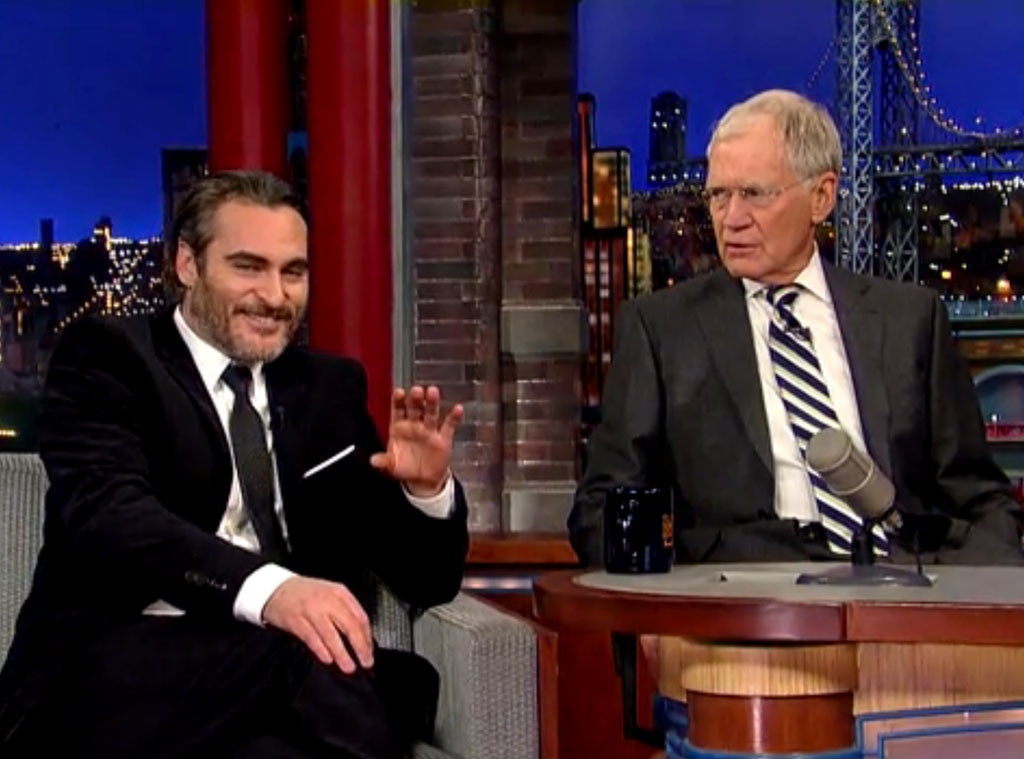 CBS
We should have known. No, really, we should've. In hindsight, Joaquin Phoenix returning to the scene of the proverbial crime and committing another one makes far more sense than what he actually said.
A little more than five years after his dazed-and-confused appearance on the Late Show With David Letterman, Phoenix spun another yarn for Dave's benefit, this one about being engaged.
And since all sorts of celebs have dropped engagement, marriage and baby bombshells on late-night talk shows before, there was no real reason to suspect he was full of...
Though history does have a tendency to repeat itself.
The Inherent Vice star last night told Letterman that he had met a yoga instructor who, among other poses, taught him "the harness of the hog." "That's a carnival ride, that's not yoga," Dave insisted, perhaps sensing somehow that he needed to be on his toes.
Phoenix even got down on the floor to demonstrate the so-called hog harnessing.
"This is the crazy part of the story," he continued. "We started dating...and I think she's the one. I proposed to her and she said yes."
Only not at all, and we've heard that he's still dating DJ Allie Teilz.
 A rep for Phoenix attributed the hoax to "just his extraordinary and spontaneous sense of humor."
So, does this mean that he'll have to show up yet again to apologize? A far more coherent and clean-shaven Phoenix reappeared on the Late Show in 2010, a year after his infamously unrecognizable and strange interview launched that whole Phoenix-is-now-a-rapper-and-maybe-quitting-acting, performance-art hiatus that seemed to be an inspiration for Shia LaBeouf's artistic detours recently.
In 2010, he told Dave, "I mean, I think that you've interviewed many, many people and I assumed that you would know the difference between a character and a real person. I hope I didn't offend you in any way."
What a character, indeed.