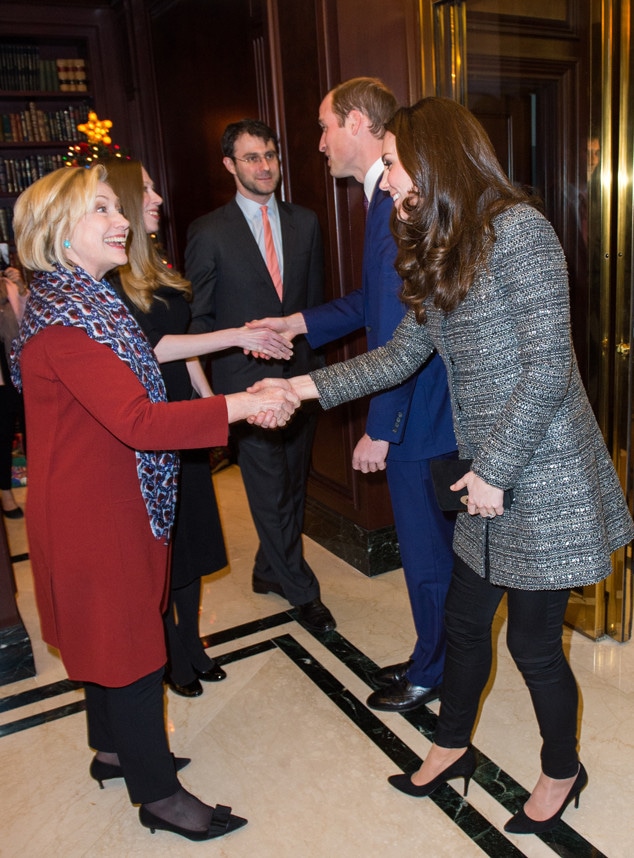 Samir Hussein/WireImage
When royalty met (political) royalty...
Fresh from sitting down with President Barack Obama, Prince William—this time accompanied by Kate Middleton—had another meet-and-greet with some of the country's most powerful Democrats this afternoon, chatting with Hillary Clinton and Chelsea Clinton, who was with husband Marc Mezvinsky, at an event at the British Consul General's Residence in New York City to promote wildlife conservation, one of the Duke of Cambridge's principal philanthropic causes.
Kate and Will arrived at at the Conservation Reception shortly at 5:50 p.m. local time and were greeted by the British Ambassador to the U.S., Sir Peter Westmacott, and British Consul General Danny Lopez.
The duchess camouflaged her baby bump (and braved the winter chill outside) in a silvery Tory Burch coat, while Hillary—who could yet another impressive title one day herself—wore a long power-red and one of her trademark scarves.
Prince William, who is expecting his second child with Kate, was heard sharing mutual congratulations with Chelsea and Marc, who welcomed their first child, daughter Charlotte, in September. Hillary asked Kate how she had enjoyed her visit to Harlem's Northside Center this morning, and Kate told the former first lady, New York senator and secretary of state that she had very much enjoyed meeting with children and their families who benefit from the facility's work with kids with special needs.
On their way into the reception, Kate also stopped to tell a 6-year-old girl, who was there with her parents and grandparents, that she liked her footwear.
"I love your shoes and socks," the duchess told the presumably charmed-and-dazzled child. "They look very Christmasy."
Prince William was first to address the reception, calling those in attendance "lights at the end of the tunnel" when it came to the daunting task of stopping illegal poaching.
"Time is running out, but this room reminds us that support is not running out," he said. "We can be optimistic." Hillary and Chelsea also spoke at the event, as did a number of other activists.
One of the evening's guests, Louise Middleton, told reporters that she happens to have a daughter named Kate and "she gets a lot of free drinks."
As for the otherKate Middleton, Louise said, "She couldn't have been nicer, she was very attentive and she really seemed as though she was listening to what we had to say, took her time, wasn't in a rush to meet the next person."
After the reception, Will and Kate went back to the Carlyle Hotel, the luxurious spot they're bunking at while in town, to get ready to attend the Brooklyn Nets' game against the Cleveland Cavaliers tonight at the Barclays Center.
For once, Beyoncé and Jay Z won't be the most looked-at couple at the arena tonight!