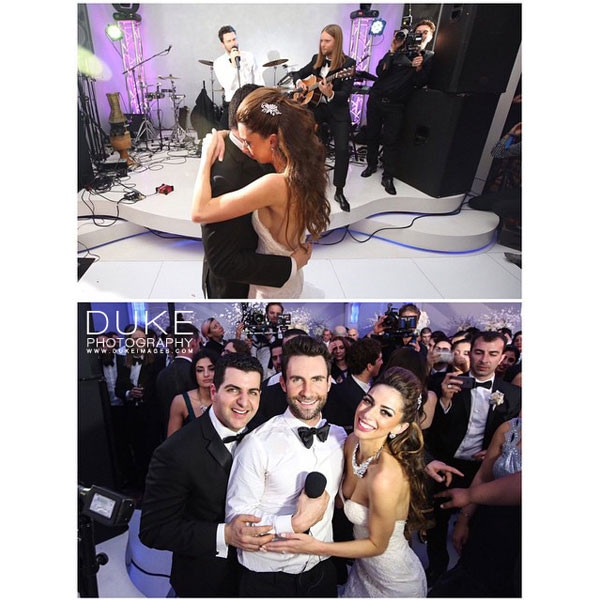 Instagram
Talk about the surprise of a lifetime! 
Maroon 5, including lead vocalist Adam Levine, crashed a couple's wedding over the weekend in Los Angeles, where the popular pop rock back performed a few tunes while they shot footage for their latest music video. 
The newlyweds, who were completely shocked by the band's wild surprise, danced to some of the group's hit tunes, including the love ballad "She Will Be Loved," in addition to posing for pics Levine, who tied the knot with his Victoria's Secret model wife Behati Prinsloo in July. 
While it's unclear what video Maroon 5 was filming, their impromptu appearance was clearly one of the highlights from the night. 
"It was an incredible surprise and everyone at the wedding is going to cherish those memories," Duke Photography tells E! News. "They crashed the wedding and were filming their new music video during the performance. We can't say much more, but that it was a great experience."
Maroon 5's latest album V, debuted on Sept. 2, and features the hit singles "Animals," "Maps" and "It Was Always You." 
Earlier today, the band took to Twitter to invite fans to participate in the music video for their new single "Sugar." 
"We want you in the music video for our new single #Sugar! Grab the app JamCam now to submit your part!" the group captioned a photo that provided fans with info on how to submit to the contest. 
Best of luck to Maroon 5 fans and congrats to the happy couple! 
—Reporting by Ruth O'Neill
Watch:
Maroon 5 Crashed a Wedding to Film a Music Video