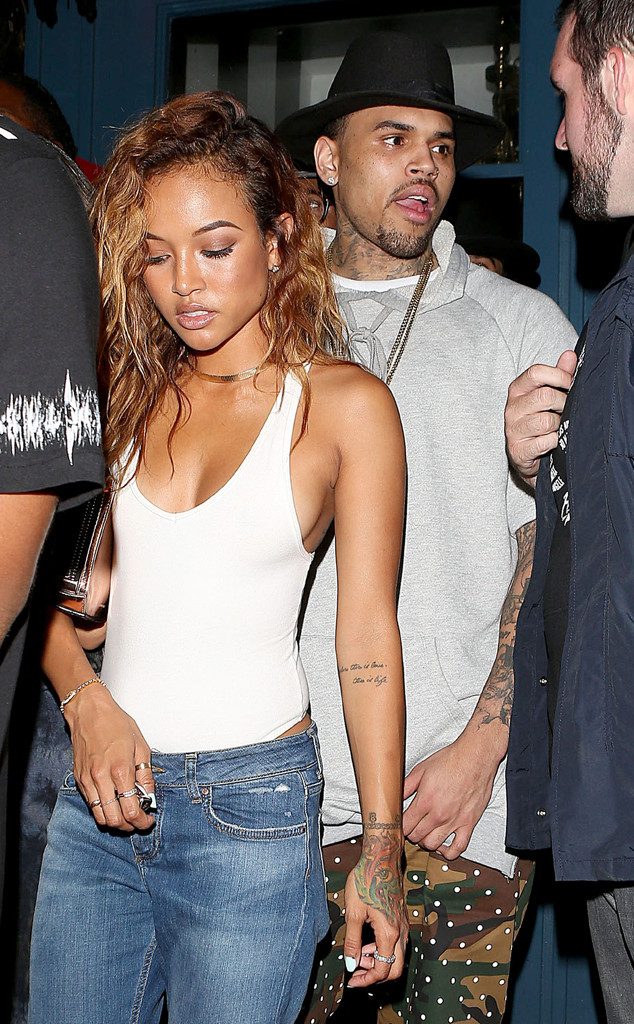 AKM-GSI
What is going on between Chris Brown and Karrueche Tran?
On Friday, the 25-year-old R&B singer announced on stage at the 2014 Cali Christmas concert that he is "single," adding, "F--k that bitch!" Tran, his 26-year-old on-again, off-again girlfriend, tweeted that night that "N---as be in they feelings when you break up with them lol."
On Saturday, the model took to Instagram and posted a cryptic message about a breakup, without naming anyone.
"Once you find strength within yourself, it's hard to allow any type of bs around you," she said. "I refuse to be repeatedly mistreated, especially by someone who claims to love me. That's not love. And if that's what you define as love then I don't want it."
"Yes, I have not been so smart before in the past but I made a promise to be a better and stronger woman and I'm keeping that promise," she said. "If you can't love me the right way, then don't love me at all. Don't be mad at me because I prefer to be happy. Keep love in your life folks. Not just love between people but love within your HEART, flowing in all aspects of your life. I promise life is so much better."
Brown reportedly shared his own Instagram post that day, which contained a breakup rant, according to MTV News, which posted a screenshot, and The Daily Beast. The post was later deleted.
"We've got scars, some of them u gave me, some of them I've caused," they quoted him as saying. "That ride or die act we have been fooling the world with obviously ain't working. I was locked up for damn near 4 months and only got 1 visit from you while u was hosting parties and taking secret trips to Toronto, going on dates with Drake!"
Brown and Tran have not commented about the post. Drake's rep declined to comment.
Brown, who has been on probation since his 2009 attack on Rihanna, served a shortened sentence of 80 days in jail in Los Angeles earlier this year after getting kicked out of court-mandated rehab and after violating his probation by getting arrested for assault in Washington, D.C. in 2013. During his time behind bars, he left Tran a sweet voicemail and the two packed on the PDA at his release party after he was freed on June 2.
Brown and Tran have dated on and off for over the past few years. They broke up in March and later reconciled. Two months after their post-jail reunion, they split again. Weeks later, they were then spotted together, looking cozy.
"When this relationship first started u knew what it was and even participated in threesomes," MTV and The Daily Beast quoted Brown as saying. "I slowed all that s--t down. So let's not try to save face for public opinion because I don't need to play victim so people can take my side."
"I made it clear to the world who my girl was and made your life equal to mine even at the cost of me not focusing on my career at times," he added. "So miss me wit the bulls--t. Now yall know the real."
Meanwhile, Tran responded to several fans who commented on her post. 
—Additional reporting by Marc Malkin