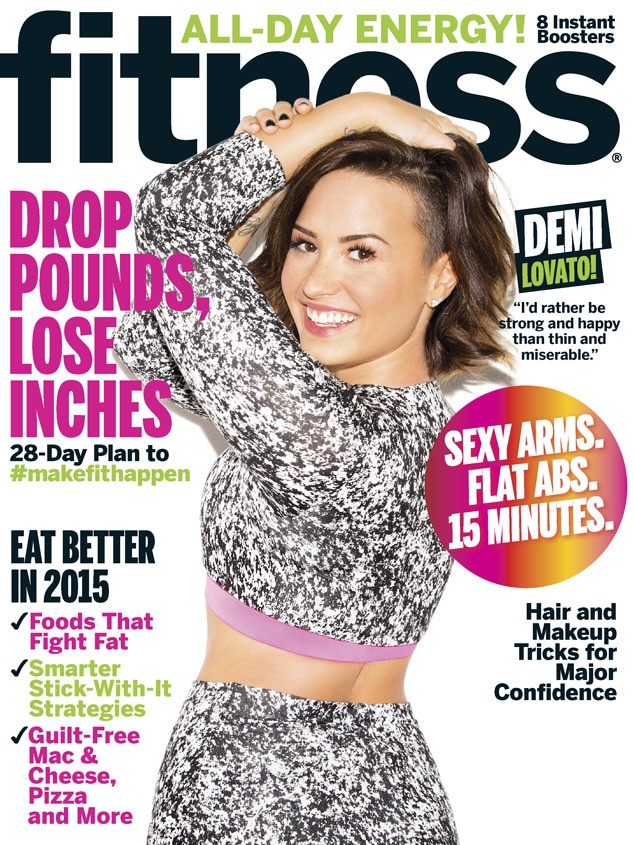 Fitness
Demi Lovato is feeling better—and stronger—than ever. 
In the midst of a successful world, the 22-year-old beauty, who lives a sober lifestyle after entering rehab in 2010 for "physical and emotional issues," opens up about body image in the new issue of Fitness magazine, admitting that she still struggles with self-confidence following her battle with bulimia. 
"I almost went back to rehab for my eating disorder last summer," the "Skyscraper" singer tells the mag, admitting that it's been "difficult" to eat healthy on tour. "I was obsessing over food and terrified of it at the same time. Wilmer [Valderrama] noticed and called me out on it, which was a relief."
"I was done being afraid of food and so tired of overeating and not knowing why I did it," she continued, revealing, "Now I'm on a structured meal plan. I eat four small meals and two snacks a day. It's teaching me portion control."
Lovato has been more than candid about her past struggles, which, in addition to her eating disorder, include cutting and serious drug use, but slowly but surely, she's learned how to conquer her issues. 
"I've learned to appreciate my body for what it is," she says. "It helps to remind myself how far I've come. I recently saw pictures from my first tour, and I spent that whole summer performing in the heat in a red leather jacket because I was ashamed to show my arms. And that was when I was 105 pounds! This tour, I've had the confidence to show my arms at every single concert. It may seem like a small thing, but for me, that's huge."
The erstwhile Disney star, who says that her healthiest habit is "definitely working out" (she even brought a SoulCycle bike on her tour!), also credits celebs like the Kardashians and Jennifer Lopez for helping her embrace her natural curves.
"My current life motto: 'If Beyoncé can do it, I can do it.' If she can work out, have the incredible body she has, have a kid, and be as successful as she is, then I sure as hell can, too. I'm also really inspired by other women in the spotlight right now who are embracing their curves," she reveals. "Say what you will about the Kardashians, but they've really helped make curvy bodies beautiful again. It's so nice to look around and see women with hips and a butt, like Iggy Azalea and Jennifer Lopez. They have great figures, but you know they also work really hard for them and don't try to hide their curviness." 
As for her advice for other women struggling with body image? 
"We all have problem areas. I'm always going to have thick thighs. I can't change that, and obsessing over it will only make me miserable," she says. "Learning to be grateful for our bodies and taking care of them are the best ways for us to empower ourselves physically, mentally, and spiritually."