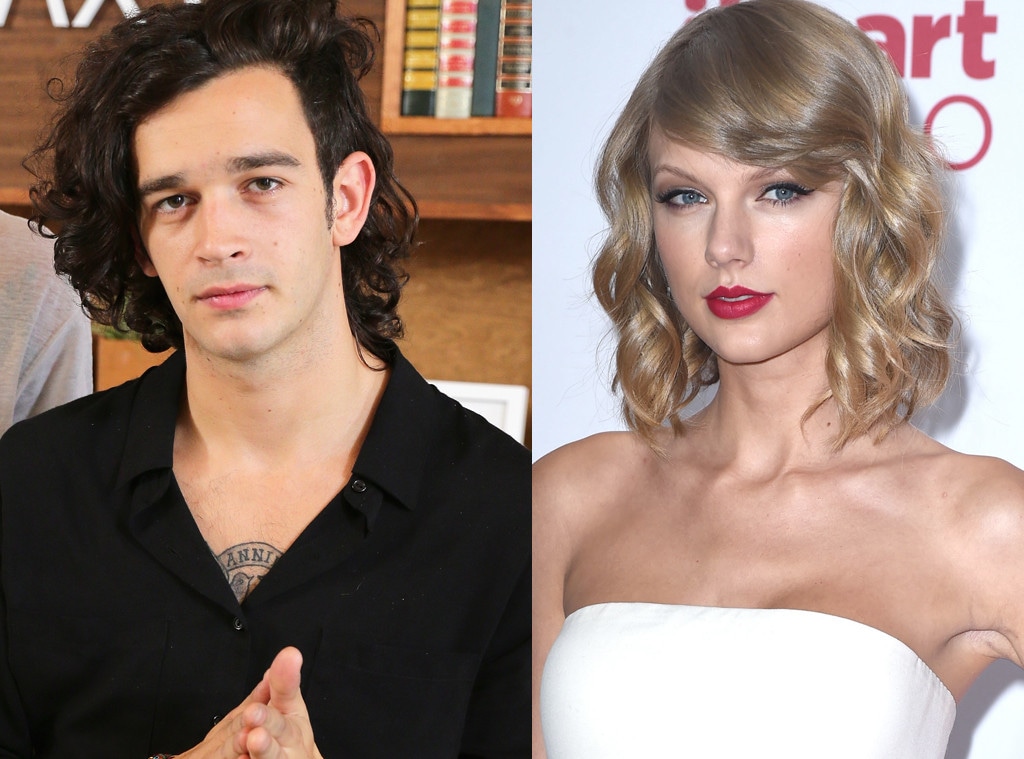 Getty Images
Taylor Swift is making it hard for us not to think that she's dating Matt Healy!
The "Shake It Off" singer attended The 1975's concert in New York Thursday night, adding fuel to the rumors that she and Healy are a new item! T.Swift attended the concert with BFFs Lily Aldridge and Martha Hunt, and even memorialized the night with a photo on Instagram!
"I'm in love with @marhunt and @lilyaldridge," she captioned the photo.
This isn't the 24-year-old's first time attending one of the band's concerts. Taylor attended a concert in Los Angeles last week and brought along Selena Gomez and Ellie Goulding. The evidence is certainly starting to stack up!
Healy began the speculative rumors when he participated in an interview with Shazam Top 20 and admitted that he and the "Style" singer did a little more than just chatting.
"I met Taylor Swift, that was really nice," he shared with host Angus O'Loughlin. "We exchanged numbers. Let's see what happens."
Hmm...it seems that some things have definitely been happening since she has become a certified groupie!
The radio host pushed further, and even went so far as to predict that Healy would be her next boyfriend! But The 1975 member wasn't jumping the gun.
"You're calling that, are you?" he asked O'Loughlin. "Let's just see what happens."
A musician himself, Healy clearly understands how huge T.Swift is, so we don't think he would turn her down! He even added, "I mean bloody hell, what am I going to do? Go out with Taylor Swift? She's a sensation. I wouldn't say no."
And her BFF Karlie Kloss couldn't agree more. When asked about a potential romance between Healy and her pal, she recently told E! News, "I mean, who isn't a fan of Taylor Swift!"
Truth. 
She couldn't say too much about her pal attending The 1975's concert in L.A. because she didn't attend, but she is anxious to listen to their music.
"I have to check them out!" Kloss said. 
Despite Taylor adding fuel to the rumor fire, we do know that she hasn't been actively dating recently. She has made several comments about relationships while promoting 1989, and while saying that she's "open" to the idea of a boyfriend, she's also happy single lady.
"I'm really happy about the fact that being single doesn't feel like being alone," she told E! News. "I have love in my life, I just don't have a relationship, and that feels really natural right now."
"It's not that [I've sworn off dating] as much as I'm just very protective of my happiness," she added. "I found a place in my life that feels really great and I'm not willing to compromise that for just anyone."
Is Matt the guy that changes her mind?! We'll just have to wait and see...
—Reporting by Jennifer Cooper