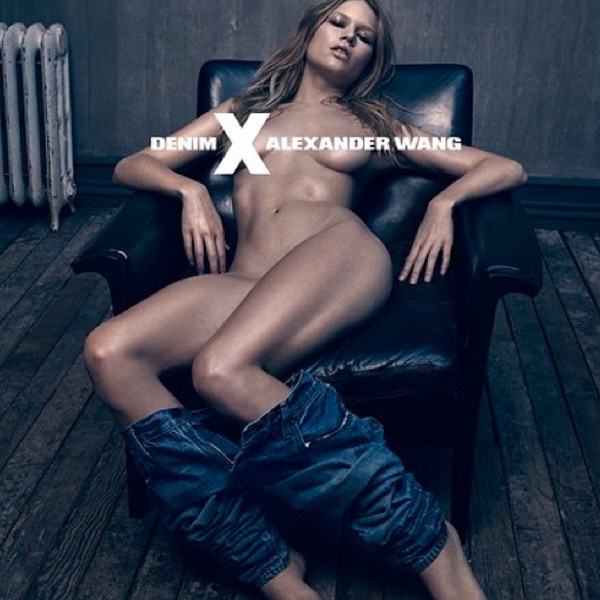 Instagram
Leave it to Alexander Wang to sell denim on a model by, well, not dressing the model.
The designer posted a preview on Instagram for his new Denim x Alexander Wang line and dayum, are these photos risqué. One ad features model Anna Ewers draped over a couch—completely in the buff—with jeans scrunched around her ankles.
The second ad, if you can believe it, is racier: An up-close shot of Ewers hands between her (well-oiled—à la Kim Kardashian) legs—ostensibly simulating masturbation. In the first photo, the "x" in the logo is emphasized (or otherwise strategically placed).
"Once you see it, you can't stop thinking about it," Wang told Women's Wear Daily of the campaign photos.
He later continued: "It's not provocative just in terms of sexy, but provocative to provoke conversation…I'm not dictating what that message is exactly. The interesting part is to see how people interpret it, and what they have to say about it. Of course, there are going to be people who disagree with it."
The line features three different denim styles in three washes each—with cuts that range from a fit a little slimmer than a boyfriend jean to denim that can be easily rolled above the ankle. Prices are set from $225 to $295.
Some critics are already taking to social media to denounce Wang's use of overt sexuality as a sales tactic. But ads with naked models in jeans are no new fashion phenomenon: Calvin Klein's denim brand has a virtual stronghold on the strategy.
In short: Sex still sells.
What do you think of Wang's new denim ads?