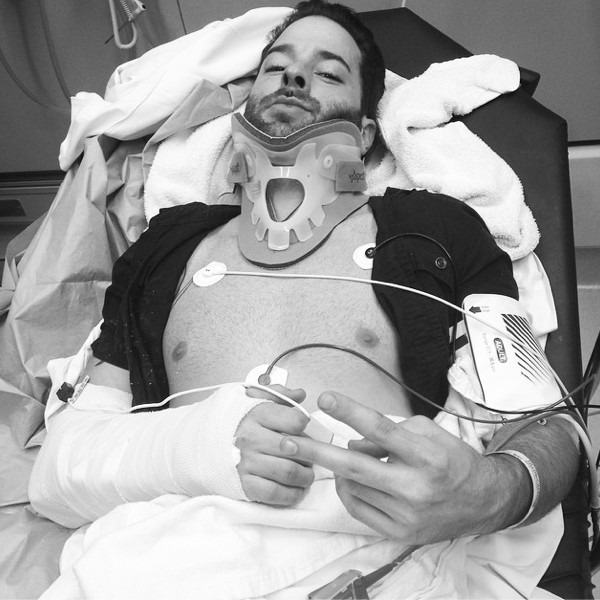 Instagram
As soap star Corey Sligh continues to recover after being attacked Thanksgiving night, two men are now facing consequences for their actions.
The Los Angeles County District Attorney's office announced Tuesday that two men are facing criminal charges after allegedly beating the Young and the Restless star.
Prosecutors say the actor was walking into a Rite Aid in West Hollywood, Calif., on Thursday night with his girlfriend Alisa Berhorst and a friend in hopes of delivering a Thanksgiving dinner to a friend working the nightshift.
As they were walking in, Sligh saw a car driving erratically in the parking lot, which caused the actor to be concerned.
"They almost hit people in the parking lot," Berhorst told KCAL9 reporter Laurie Perez. "They were hitting curbs and Corey said please slow down or we're going to call the cops."
Prosecutors say one of the defendants opened the car door and decided to strike Sligh. The pair then beat up the actor and model who was hospitalized until Sunday morning.
"The guy walked up to him like I'm in the mood to kill somebody and this is who it's going to be because he told me to be careful and slow down and go away," Berhorst explained.
If convicted, both defendants could face prison time.
While the investigation continues, Sligh and his girlfriend are grateful to be alive and well after a good deed turned into a near-death experience.
"People can be cruel, but I'm not going to worry about it," he shared with The Wrap. "I'm just trying to get back to normal. Just trying to get back to acting."
And when asked about the men possibly responsible for his injuries, turns out Sligh is trying not to hold any grudges.
"I have no hatred for these guys," he told the publication. "I'm happy to have the problem of relearning to walk instead of not being able to walk at all. I'm pretty blessed."
We have no doubt that positive attitude will help his recovery process greatly.