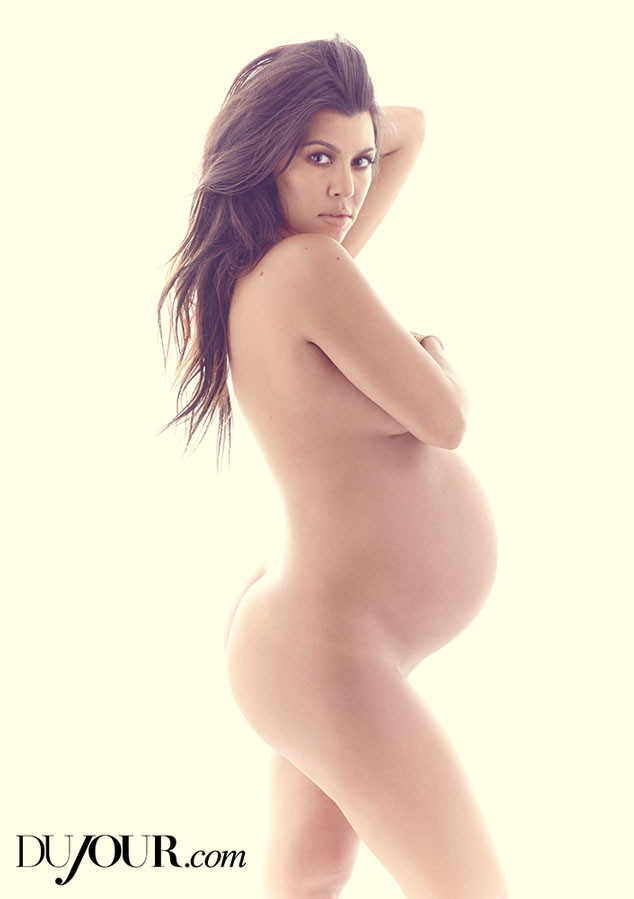 Brian Bowen Smith/DuJour
That's one hot mama!
Kourtney Kardashian seems to be following in younger sister Kim's footsteps by posing nude while pregnant for DuJour magazine. The Kourtney and Khloé Take the Hamptons reality star bared it all for three photographs, which reveal the 34-year-old mom's beautiful baby bump.
Taken by Brian Bowen Smith, the photos have Kourtney dressed in several barely-there ensembles, one of which even reveals her nipples. Scantily clad in a drenched white tunic dress, Kourtney stuns as she poses, showing off her third (!) baby bump. The reality star was styled by Monica Rose, who clearly knows how to make pregnancy look phenomenal!
And Kourtney feels great, too. She told the magazine, "I really feel so comfortable, and almost at my best, when I'm pregnant...I don't know, I just feel just like it's such an amazing feeling, the transformation that your body goes through and knowing that this is what my body is made to do, there's something about that that's so empowering and beautiful and I just really embrace it."