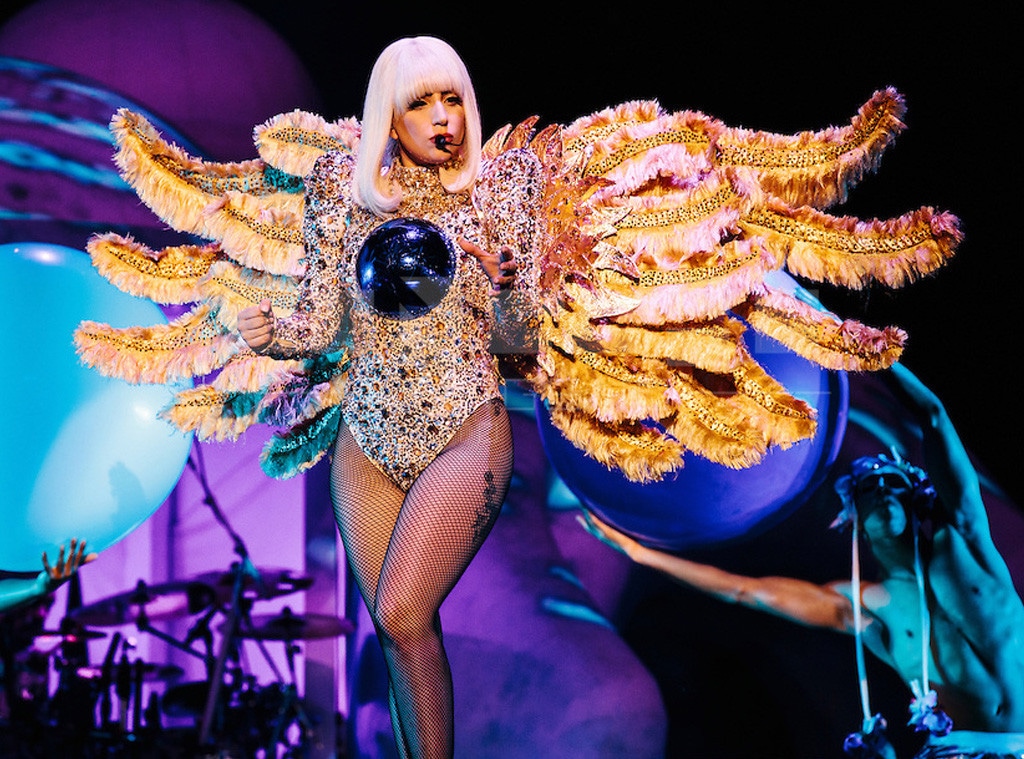 longsho photographie
Lady Gaga revealed on The Howard Stern Show Tuesday that she was raped as a teen.
The singer, 28, made the revelation after host Howard Stern asked about the controversy surrounding her performance of "Swine" at SXSW in March. During the song, "vomit painter" Millie Brown spewed neon green liquid all over the pop star. "Everyone's just looking for something to bitch about," Gaga said with a sigh. "Just lighten up! It's art! My friend Millie—she lives in London—it's her art form. She doesn't eat food and vomit it up. She swallows gallons of paint, OK? She's a hardcore bitch. She swallows paint and then she regurgitates it on canvases in rainbows and color. It's bizarre to watch, and sometimes there's techno in the background, and sometimes someone's singing, and sometimes it's in silence."
"I wrote a song called 'Swine.' The song is about rape. The song is about demoralization. The song is about rage and fury and passion, and I had a lot of pain that I wanted to release. I said to myself, 'I want to sing this song while I'm ripping hard on a drum kit, and then I want to get on a mechanical bull'—which is probably one of the most demoralizing things that you can put a female on in her underwear—'and I want this chick to throw up on me in front of the world so that I can tell them, you know what? You could never, ever degrade as much as I could degrade myself, and look how beautiful it is when I do.'"
"You keep alluding to...were you raped by a record producer?" Stern asked.
"I don't...I don't want to..." Gaga replied. "Happy times! Let's talk about happy things!"
Gaga, who is dating Chicago Fire actor Taylor Kinney, replied, "I went through some horrific things that I'm able to laugh [at] now, because I've gone through a lot of mental and physical therapy and emotional therapy to heal over the years. My music's been wonderful for me. But, you know, I was a shell of my former self at one point. I was not myself. To be fair, I was about 19. I went to Catholic school and then all this crazy stuff happened, and I was going, 'Oh, is this just the way adults are?'...I was very naïve."
Unfortunately, the "Do What U Want" singer said, "It happens every day, and it's really scary, and it's sad. It didn't affect me as much right after as it did about four or five years later. It hit me so hard. I was so traumatized by it that I was like, 'Just keep going.' Because I just had to get out of there." In fact, Gaga told Stern and Robin Quivers that she "wasn't even willing to admit that anything had even happened."
Why was she so hesitant to address the assault?
"I don't want to be defined by it. I'll be damned if somebody's gonna say that every creatively intelligent thing that I ever did is all boiled down to one d--khead who did that to me," Gaga said. "I'm going to take responsibility for all my pain looking beautiful. All the things that I've made out of my strife, I did that."
Gaga said she never confronted the man, and if she were to run in to him again, she isn't sure how she would react. I think it would terrify me. It would paralyze me. I saw him one time in a store and I was so paralyzed by fear," she said. "Because it wasn't until I was a little bit older that I went, 'Wow, that was really messed up.'" Gaga said it's especially hard since the man has told "people that we used to date!"
"You were 20 years older than me. I was a kid. How is that a date?" Gaga asked. "It took me a long time to feel strong about it." Looking back, she said, "I don't know what I was thinking. I didn't tell anybody. And I didn't even tell myself for the longest time. And then I was like, 'You know what? All this drinking and all this nonsense, you have to go to the source, otherwise it just won't go away. It will not go away."
According to the "G.U.Y." singer, jazz music saved her soul.
"Can you imagine after all that time and after that how I was feeling, then having Tony Bennett be so loving? He's not just a father or a grandfather or an uncle—he's a friend. He's a brother. He's everything. He wants nothing from me but my talent and my friendship," Gaga raved. "That's all I wanted all along was just somebody to say, 'Wow, you've got a great voice and I'll do anything to help you make it.'"
"I think we all should be each other's Tony Bennets," she added.
Stern also asked Gaga about if she's sober. She's not yet, but promised, "I think I will be at some point."
When it comes to drinking alcohol, Gaga said, "There's really no telling when we let the stallion out of the cage with me, because it really depends. If I go downtown to my old bar, St. Jay's, I'm probably gonna end up throwing a chair at somebody. I'm not violent—I just get really rowdy. I like to play."
Gaga also opened up about her struggles with depression. "I think it's chemical for everybody," she said.
"I do believe that people are triggered, [that] their depression is triggered by situations. I believe that all depression stems back to anxiety and an inability to relax during tough situations," the pop star argued. "When my life got more and more stressful, it was like I was just smokin' and drinkin' and poppin'—anything I could do to just chill out. Now I meditate...I do yoga. I use the sauna a lot. It's good for my body because the show's so physical. And I sing jazz! The jazz has been so good for my depression."
What triggered Gaga's depression?
"It was the change in people around me when I became a star," the musician said. "It was very freaky to me. Closest friends, family, people I never thought would betray me, the things they did behind my back, the things they said behind my back...I'm from f--king New York! I find s--t out." She continued, "When you're an artist, you're also a business and then everybody starts to treat you like a commodity."
Recalling a specific betrayal, Gaga said, "I had a best friend sue me for a bunch of money…but oh my God, we lived in a walkup together in the Lower East Side. We were cleaning roaches out of my closet together. I'm sitting in a deposition room thinking, 'You f--k.'" The "Applause" singer even admitted that the experience even made her question her future in show business, saying, "Everybody [reads] your transcript and they think you're such a terrible person...emotionally, I was like, 'I'm done with people. I'm done with everything. Why make music? Why put myself in the public?' I love making music, but I've gotta tell you something, Howard: If I wasn't a star today, I'd be a star on Rivington Street and you can come see me for $5. I'd still be there. That's just the way that I am. I thought I'd already made it!"