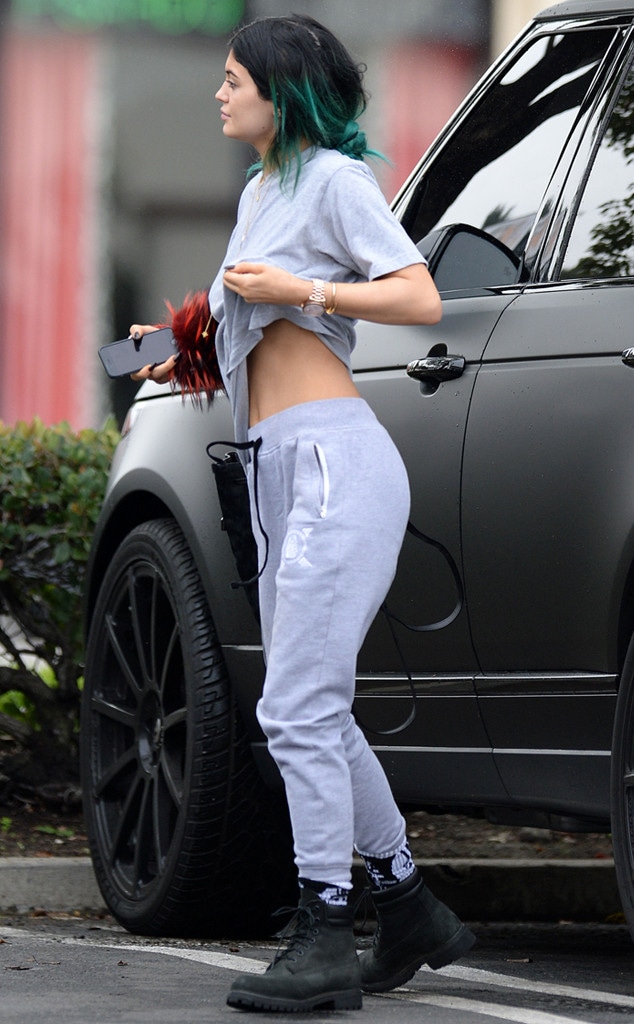 Splash News
Kylie Jenner is going cute and casual!
The 17-year-old Keeping Up With the Kardashians star stepped out in Woodland Hills, Calif., on Monday looking fresh-faced without any makeup on, a look we rarely see from Kylie.
Kylie dressed super-comfortably in black boots, gray sweatpants and a baggy T-shirt for her breakfast run to a local Noah's Bagels. Kylie's skin appeared perfect and blemish-free even without any cosmetics on. While the reality star was still sporting her two-toned teal and black hairdo, her dramatic makeunder is a tad shocking as we've gotten so used to seeing her with bold lipstick and sultry, smoky eye makeup.
Splash News; Albert L. Ortega/Getty Images
It doesn't seem like Kylie cared about being caught without any makeup on. The gorgeous teen star posted a makeup-free pic on Instagram with the caption, "straight outta bed."
Meanwhile, Kylie has made lots of headlines recently for her signature full, pouty lips, which many people think are the result of cosmetic injections. However, Kylie has repeatedly denied that she's gone under the needle.
"I feel like everyone has been talking about it for months, so I'm kind of sick of it," she recently told E! News. "My pictures, I pout them out a lot. I think big lips are awesome."
"I love lip liner and over lining my lips," she said of her plump pout. "But I don't even care anymore. I'm like whatever, just say whatever you want."