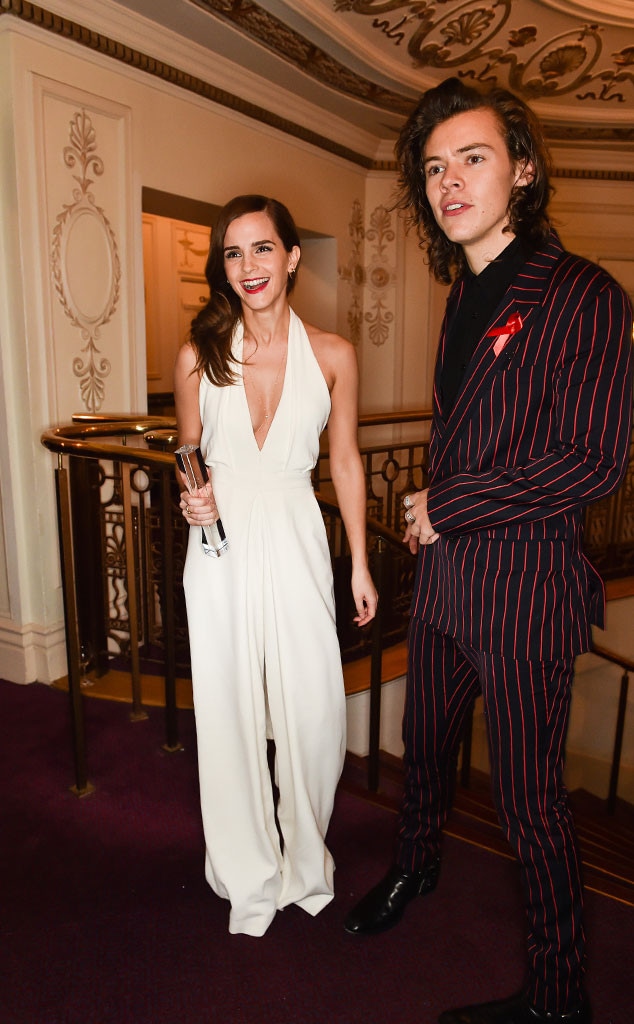 Nick Harvey/Rex/REX USA
The Internet actually wasn't the only "one" that had a little trouble keeping it together after Harry Styles presented Emma Watson with the British Style Award at the 2014 British Fashion Awards tonight.
"Harry Styles just said the words, 'He for She,' so that's really cool," Watson, looking stunning in a white backless Misha jumpsuit, blushed/gushed after accepting her statuette from the One Direction heartthrob, who had name-checked her foundation.
Cue the coronation of the hottest new we-wish-they-were-a-couple on Twitter! (Though, theoretically, perhaps some of those who were late to the social-media party thought folks were buzzing about a different Harry...)
"'Harry and Emma' For once December is a good time to be alive," lara actually tweeted—and we wish her a much better holiday season than she apparently has had in the past.
"IM VERY OKAY WITH HARRY AND EMMA AS A COUPLE," tweeted hopeful fan sara—and the excitement only picked up from there. Here's a smattering of the reason why "Harry and Emma" was trending worldwide:
See, either a perky quip or over-excitement...
if harry and emma dated I guarantee the world would be a better place

? Harry Styles (@HarrysHoar) December 2, 2014
David M. Benett/Getty Images
Or we're also into the whole Harry-Potter-grew-up-and-became-Harry-Styles angle...
harry and emma would be such a beautiful couple but i dont think emma would ever

? deep heat (@metaboliam) December 2, 2014
all i want is Harry and Emma to discuss the importance of gender equality together #MTVStars One Direction

? please follow back (@behindnourry) December 2, 2014
2 days ago u all were larry af now you ship harry and emma together ya'll are so indecisive

? xanthi (@androgeniall) December 1, 2014