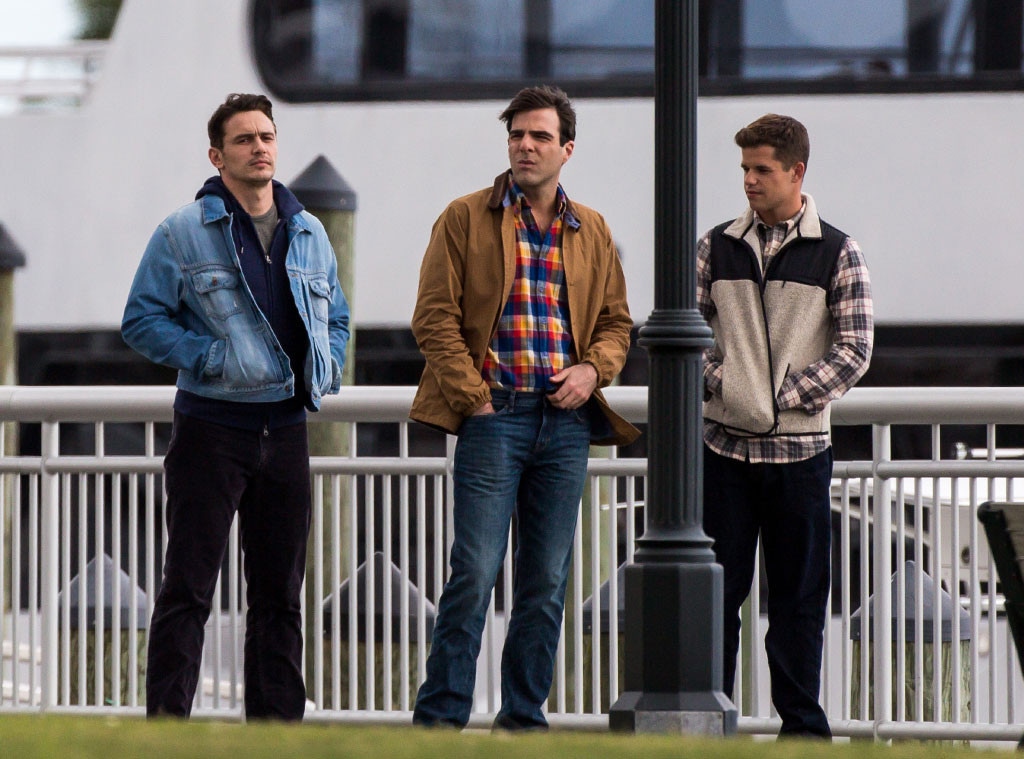 splashnews.com
We cannot wait to see Michael.
If James Franco and Zachary Quinto playing lovers wasn't enough, I just got word that they shot a "very hot" three-way sex scene for the independent movie.
Former Teen Wolf star Charlie Carver is the third in their bed.
"They first meet in a club. The music is pumping. It's the nineties!" a source said. "When Charlie's character questions Franco about having a boyfriend, Franco says, 'He'd like you, too.'"
Cut to the bedroom, where the three are naked, intertwined and "kissing," the source said.
Michael is based on a New York Times article "My Ex-Gay Friend" by Benoit Denizet-Lewis about Michael Glatze, a former gay activist and magazine publisher who became an anti-gay Christian fundamentalist after announcing he was now straight.
Franco is in the title role with Quinto as Bennett and Carver as Tyler. The three enjoy a romance, but when Michael leaves, the breakup is "disastrous and heartbreaking," the source said.
Franco posted a photo of himself and Carver on Facebook in August with the caption "BOOM! Welcome to our Boys Spaceship! Blast off!!!!"
Earlier this month, Franco posted a still from the movie with the Star Trek star on Instragram with the message. "I miss Quinto."
Directed and co-written by Justin Kelly and produced by Gus Van Sant, Michael also stars Emma Roberts, who starred opposite Franco in the big screen adaptation of his book of short stories Palo Alto.
Roberts plays Glatze's girlfriend.
Franco will next be seen in The Interview, in which he plays a talk show host who is recruited along with his producer (Seth Rogen) by the CIA to assassinate Kim Jong-un (in theaters on Christmas Day). He hosts Saturday Night Live for the third time on Dec. 6.
Carver appeared with his identical twin brother Max on Teen Wolf. He played gay character Ethan.