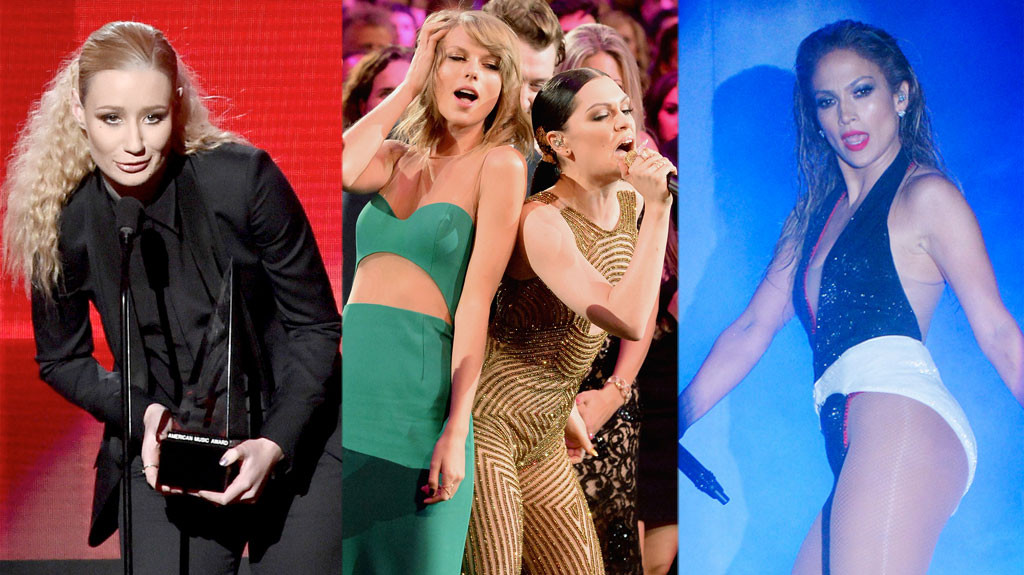 Getty Images
It was a hot night in Los Angeles tonight, and we're not talking weather.
The 2014 American Music Awards took place at the Staples Center in downtown LA which gave fans and viewers plenty of sexy performances and even sexier outfits to obsess over. Pitbull, who returned as the host for the eventful night, kept the show going as audience members enjoyed the sounds of big names including Selena Gomez, Jennifer Lopez, Iggy Azalea and more, while also honoring some of the big winners of the night (Hi, One Direction!).
In case you missed it (or just want a refresher), here are some of the highlights from tonight's 2014 American Music Awards:
Best Opener: Taylor Swift's world premiere performance of "Blank Space" was so hot—literally, there was fire everywhere. And leg. Lots of leg.
Educational Moment: Pitbull was nice enough to remind everyone that "not all Latinos are Mexican."
Awkward: Wyclef Jean joined Magic! for a performance of "Rude," and tossed the lyrics to the audience which resulted in silence. Woops!
Kevin Winter/Getty Images
Take That: Iggy Azalea scored her first AMA for Favorite Rap/Hip Hop Album, beating out two guys (including Eminem, who she recently had some beef with!) for the honor.
"This award is the first award I've ever won in my entire life and it means so much to me that it is for Best Hip-Hop, because that's what inspired me to move to America and pursue my dreams and it's what helped me when I was a teenager to escape and to get through my life and to better times," she said.
"It means so much that I can stand here against Eminem and Drake and come out with this. It's amazing. Thank you so much to T.I. for believing in me and to all my fans, I appreciate it so much. Thank you."
Interesting Duo: Sam Smith featuring A$AP Rocky?! We didn't expect that, but it worked. Smith gave viewers goosebumps with his amazing vocals while belting "I'm Not the Only One," which included a rap verse from A$AP.
Kevin Winter/Getty Images
Begging for It: Iggy took the stage alongside Charlie XCX for a medley of "Fancy" and "Beg for It" which included a dance break, a leotard,  some booty-shaking and some sound problems (unfortunately).
We Can't Look Away: Lorde brought her usual intensity for the premiere performance of "Yellow Flicker Beat," which is featured in The Hunger Games: Mockingjay—Part 1. Bestie Taylor Swift couldn't help but bust a move in the crowd and we don't blame her!
Old Hollywood Glamour: Ariana Grande brought class and sass to the stage. Looking absolutely stunning in a form-fitted gown, the singer kept all the focus on her angelic vocals while serenading the audience with medley of "Problem," "Break Free" and "Love Me Harder" with Weeknd.  Her proud brother Frankie warmed our hearts as he flashed a huge smile while dancing and singing along.
Cute Couple: Newlyweds Jenny McCarthy and Donnie Wahlberg were just too cute while presenting the award for Best Pop/Rock Album (which went to One Direction!). From stealing kisses on stage to throwing playful digs at each other, we can't help but adore these two!
Shimmy Shake Time!: We dare you to stay still during Pitbull's performance. You can't!
Wait, What?: Selena Gomez gave an emotional debut performance of her new single "The Heart Wants What It Wants" and made us all get choked up. And then we started to wonder if that silhouette in the background was Justin Bieber…
Up Close and Personal: Oooh, things were heating up between Christina Milian and Lil Wayne on stage! The duo got flirty while performing "Start a Fire."
Swift's Special Award:  T.Swift was presented The Dick Clark Award of Excellence by Diana Ross.
Kevin Winter/Getty Images
AW ALERT: Josh Duhamel introduced his wife Fergie's performance of "LA Love" and made sure to note that she makes cute babies. All together now—awwww!
Uh-Oh: It looks like Fergalicious had a little trouble getting her robe off at the end of her performance.
Dance Party for the Stars: Thank you Jessie J for bringing some life to this show! The singer turned the AMAs into a dance party for the stars during her entrance for "Bang Bang" by booty-shaking with Khloé Kardashian, Taylor Swift, Lorde and more!
Booty, Booty, Booty Rockin' Everywhere: What better way to close out the show than Jennifer Lopez and Iggy's performance of "Booty"? The girls twerked it out and gave the audience a blowout dance break the left everyone feeling pretty bootylicious at the end of the show.
Kevin Winter/Getty Images