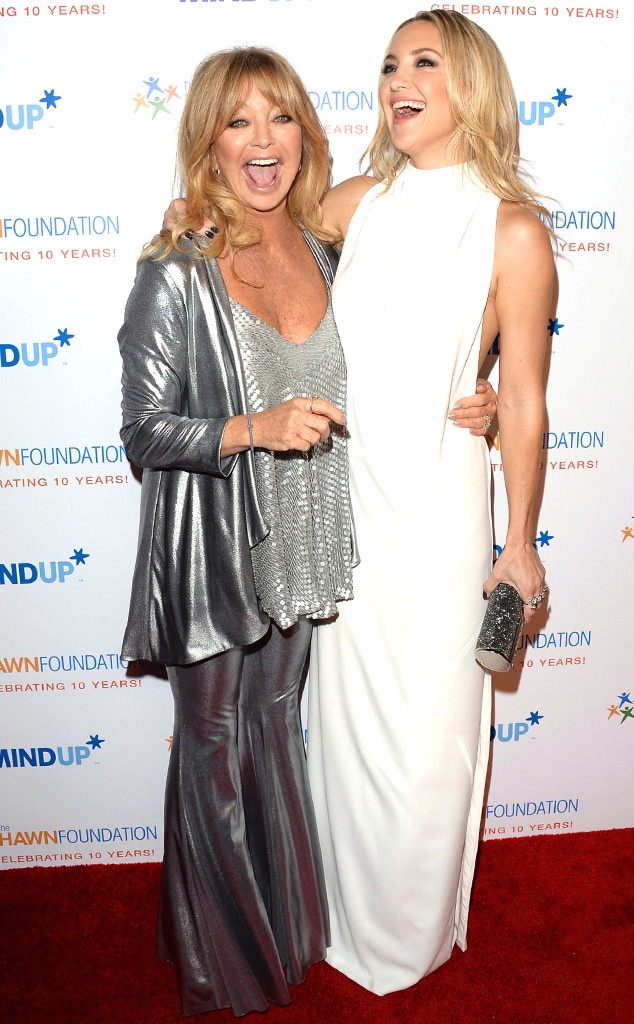 Jason Merritt/Getty Images for The Hawn Foundation
Kate Hudson and the family aren't doing a small Thanksgiving.
"It's about 20-plus of us all together," the Almost Famous star told us Friday at her mom Goldie Hawn's inaugural Love In For Kids benefit gala for The Hawn Foundation's MindUp program. "We watch football with the kids."
Does Hudson's British rocker fiancé Matt Bellamy get into the decidedly American sport? "He watches," she said with a laugh. "But ya know, they have another kind of football. But he's up for anything."
Jason Merritt/Getty Images for The Hawn Foundation
Hudson said of her favorite football team, "I'm a Peyton Manning fan. We grew up in Colorado so when we moved to Denver it was heaven so obviously I'm rooting for the Broncos."
But she also said that New England Patriots owner Robert Kraft is a friend "so it's hard for me to not for the Pats."
The night also marked Hawn's 69th birthday, which was celebrated with a cake at the end of the festivities.
"I got my mom this beautiful china that just embodies my mom. She loves table settings, but they're so extraordinarily expensive that I kind of have been buying them over the years," Hudson said. "I give her a place setting, it's been six years now. This year I got her the coffee setting, with the creamer and the sugar."
GABRIEL BOUYS/AFP/GettyImages
The evening honored Dr. Dan Siegel for this brain research and his efforts to "bring more kindness, compassion and resilience into our world."
Hawn started her foundation because of 9/11. "It changed the world and I was very concerned about the well-being of our children," she told us. "We're leaving them a world of disorder and dysfunction. How are they going to manager their emotions? It's created tools that help them intrinsically how to deal with these problems."
Held at Ron Burkle's legendary Green Acres Estate in Beverly Hills, the Love In included Patron drinks and flowers from Bouqs, a dance performance to "Proud Mary" by Dancing With the Stars' Derek Hough and a set by Will.I.Am. Guests included Hawn's son Oliver Hudson, Rashida Jones, Leslie Mann, Judd Apatow, Rachel Zoe, Melanie Griffith, Paula Abdul, jewelry designer Jennifer Meyer, Zach Braff, Roseanna Arquette, Russell Simmons and Peter Fonda. Kathy Griffin emceed.
—Reporting by Sara Kitnick