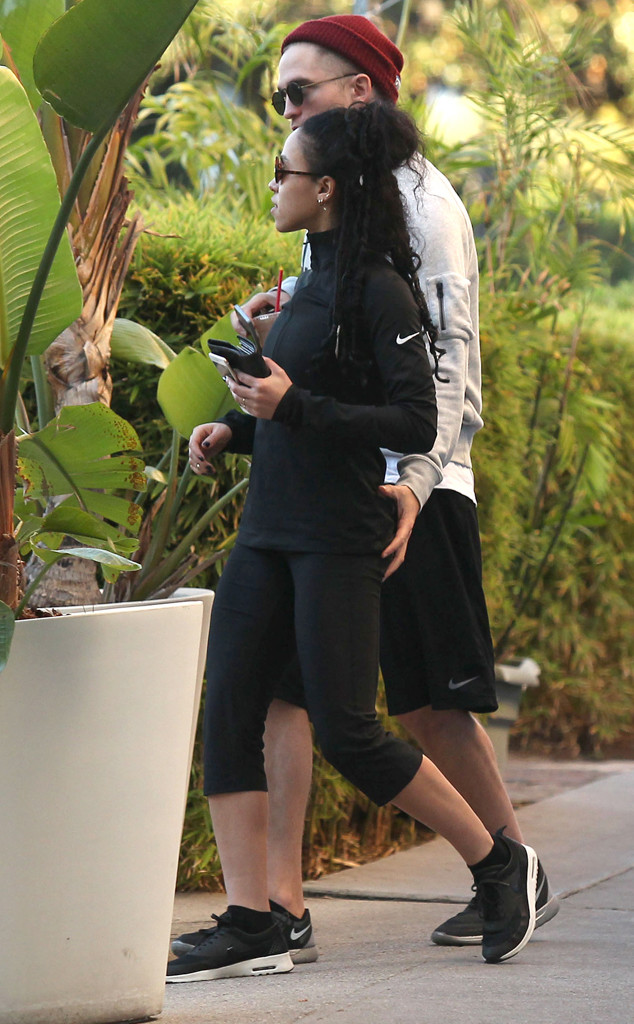 FameFlynet
Somebody just can't keep his hands to himself!
Robert Pattinson and FKA Twigs got fans talking (and maybe chuckling) as they stepped out in Los Angeles together Friday afternoon.
While venturing out to a local café for lunch, Twihards might have become a bit jealous when photographers spotted the Twilight hunk playfully grabbing his girlfriend's butt.
Keeping things casual with a gray sweatshirt with Nike athletic shorts, the actor also held hands with his girlfriend as they enjoyed some food and a tasty coffee drink.  He also sported a beanie making it impossible to see that wacky shaved haircut.
Eyewitnesses would later catch the couple at Chateau Marmont Friday night after the singer performed at the Regency in Los Angeles. 
The couple's rare PDA moments come just a few days after FKA Twigs admitted that dating one of the most famous men in Hollywood isn't exactly easy.
"I really enjoy the fun of putting something out and people liking it or hating it or talking about it, but vacuous attention, it feels disgusting. It's like a hangover. It's weird," she told USA Today when discussing online bullies she recently encountered. "I know that's not really because of me or what I'm doing, [but] the positivity that I get from [my relationship] makes the more challenging aspects...very worth it."
And for those who somehow think the "Two Weeks" singer likes all the attention, think again.
"I don't want to be in front of the camera forever," Twigs revealed in the new issue of Rolling Stone. "I'm not thirsty. I'm not a pop star. I don't want to reign over all forever."
She added, "I don't want to be famous! It makes me feel sick, the thought of being a famous person. It's just not me. I'm the happiest when I'm in the studio, not on a beauty parade."