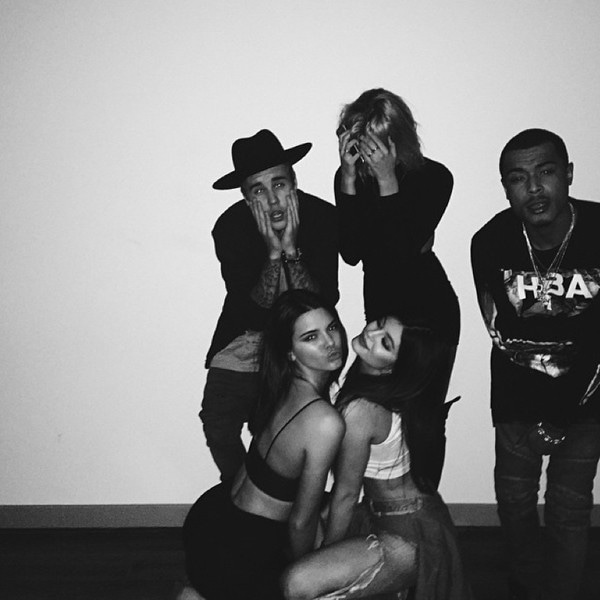 Instagram
There is nothing like celebrating a birthday milestone than with your closest friends.
That's exactly what Hailey Baldwin did Friday night as she kicked off her special weekend with her extra special gal pals.
Hours before turning the big 18, the supermodel enjoyed an evening with BFFs Kylie Jenner and Kendall Jenner.
"babes helped me celebrate 18," the famous daughter of Stephen Baldwin wrote on Instagram while hugging the Keeping Up With the Kardashians stars.
Baldwin wore a slick black dress for the evening while the Jenners wore similar bandeau crop tops. Kylie also worked her signature blue hair with ripped denim jeans. 
Before you think all eyes were on Hailey at the special gathering, turns out guests were celebrating two birthdays. R&B singer Khalil also rang in his 20th birthday with the model and her guests.
"get to be with my birthday twin tonight! Happy 20th @khalil," Hailey wrote after she flipped off the camera in her pose.
The guest of honor you're most surprised to see, however, may just be the one and only Justin Bieber!
The "Baby" singer attended the bash to support his close friends. And for the record, just because the Biebs was hanging out with the Jenners again doesn't mean he's dating one of them.
"He's a longtime friend of our family," Kendall shared earlier this month on Nightline. "Everybody loves to assume things, but no."
Instead, Friday appeared to be a relaxing (or as the kids say, chill) night for the young stars. 
"I just love having people in my life I can trust and rely on," Hailey recently shared with V magazine (per the Daily Mail). "And all of them understand crazy, last-minute schedules. Friends are friends, regardless of them growing up in the spotlight."
Keep up with the Kardashians by watching Kourtney & Khloé Take the Hamptons Sunday nights at 9 p.m. only on E!