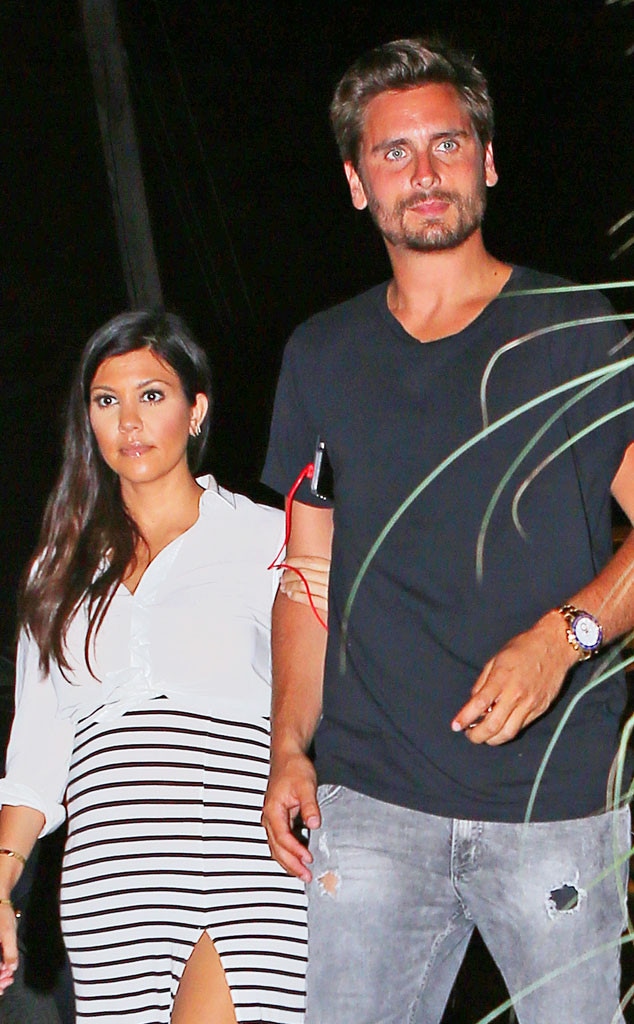 Well, that was another Kourtney & Khloé Take The Hamptons that left our jaws dropped. 
On Sunday's brand new episode, Scott Disick finally faced his demons and bravely headed to rehab. Luckily, Kourtney Kardashian had extra family support during this difficult time because Kris Jenner, Kendall Jenner, Kylie Jenner and Kim Kardashian were in town for Khloé Kardashian's birthday. 
In the beginning, Scott admits to his friend Chris that his partying has become so intense, that it's starting to not only scare his family, but himself as well.
Since Kourtney is still in Los Angeles after attending North West's first birthday, she makes a stop at her doctor and the baby is revealed for the first time! 
Watch:
Kourtney Kardashian Reveals Scott's Rehab Nightmare
Scott then talks to Kourtney on the phone, about how he is considering entering into a rehab in Connecticut. But, he's very nervous and starts rattling off reasons of why maybe he shouldn't go. He even complains about how expensive it is, to which Kourtney quickly reminds him that he is lucky enough to have the money to get the help he needs. 
So, Scott decides it's time to make a change for the better and heads to rehab. Kourtney, Mason Disick and Penelope Disick return to New York surprised that Scott has left. While she is sad she didn't get to say bye, she is also somewhat relieved they didn't have to go through an emotional farewell. 
The next day more family show up to get ready to celebrate Khloé turning 30! Kim gets a little a play time in with Mason at their hotel and asks him if he's excited for his new brother or sister. Mason quickly responds that he wants a sister and that her name should be "Twilight Sparkle." Beautiful. 
Kourtney then shares the news with the rest of her family and they are all very supportive of both her and Scott. 
What her family doesn't understand is that this behavior is nothing new. While it has obviously escalated after losing both of his parents in one month, Kourtney has been dealing with this irresponsible partying for the majority of her relationship with Scott.
Meanwhile, everyone is preparing for the festivities around Khloé's milestone birthday, but the birthday girl isn't in the most celebratory mood. Not only is she struggling with turning 30, but she also realizes that this is a stressful time for Kourtney, and wants her to be okay. 
One of the main issues Khloé has with turning 30 is that her life today is nothing like she imagined she would be. She never thought she would be divorced with no children at this age, but is doing her best to stay positive about the future. 
Her family plans an amazing birthday party on a private yacht filled with people that love her, music and drinks and Khloé being Khloé, focuses on the great things she has to be appreciative for, rather than worry about a number. 
Soon after that party, French Montana throws a surprise party for her at one of his favorite spots in the Bronx! She was so surprised and overtaken with appreciation. So sweet! 
The family then leaves the city and takes a private helicopter back to the Hamptons for some relaxing, summer family time together.
 Although the mood is a little somber without Scott around, Kourtney knows that he would want everyone to be having fun and enjoying the beach house! So, when Scott's boat gets delivered during his absence, everyone decides to go for a spin. Mason specially wants "to go fast." 
Back at the house, Kris and Khloé get into a bit of an argument. When Kris slightly mentions that perhaps Khloé moved a little too quickly after separating from her ex-husband Lamar Odom, Khloé flips out. 
Kim then goes and talks to her little sister, telling her that turning 30 was terrifying for her as well, but she's in an amazing place now, and soon Khloé will be too! She also shares a few beauty secrets for her aging skin...
Khloé comes to the realization that no one can simply plan out their life and she needs to take everything in stride. 
The focus shifts back to Kourtney when her sisters surprise her with a therapist that she's gone to in the past. Everyone thinks Kourtney needs someone to confide to, without being judged, regarding her relationship struggles at the moment. 
While she is slightly annoyed and very surprised, she ends up agreeing to speak to the therapist. 
And that's it! The episode ends right there. We're on the edge of our seats for next Sunday!
Tune-in to a brand new episode of Kourtney & Khloé Take The Hamptons next Sunday at 9/8c on E!