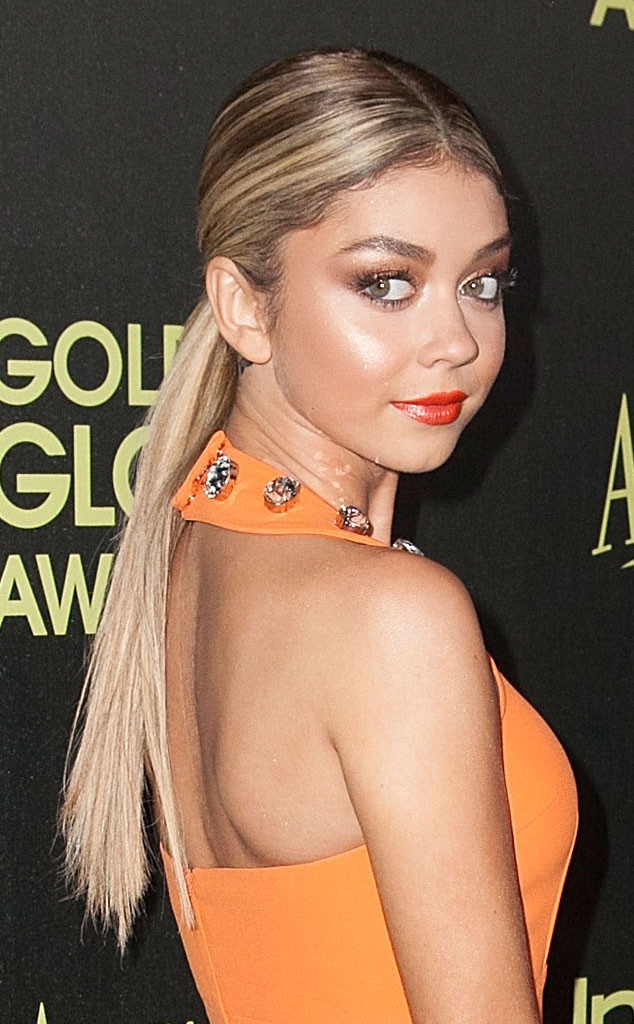 Gabriel Olsen/Getty Images
Sarah Hyland's decision to go "Beyoncé" blonde wasn't done on a whim.
"This has been a transition that I've been planning for two years," the Modern Family star told us earlier this week at the announcement of 2015's Miss Golden Globe.
Hyland debuted her new look on Instagram.
"I'm taking over the @ninezeroone Instagram today, to show you my new blonde hair journey and how I became Beyoncé hahaha," Hyland wrote alongside a video, in which she does some very 'Yonce poses. Hyland is referring to Beyoncé's signature look: Golden high-volume waves, although the singer recently changed it up with short blunt bangs and a bob.
In some Instagram pics, Hyland is seen taking her usually golden-brown locks to a light blond color, and then adding extensions. She later posted a photo with a caption: "They say blonde's have more fun. Let's see how this goes ;) Thank you @nikkilee901 for the color and locks! Honestly the best out there @ninezeroone @riawnacapri."
Hyland also recently got her first tattoo—a hummingbird on her neck just below her right ear.
"I got it done on Tuesday, but I decided I was going to get it in August," she told us. "I've been mulling it over a bit and I decided I actually really wanted it."
Fortunately, there was no pain involved. She said of her tattoo artist, "He's really fine and gentle, it really didn't hurt, I was expecting a lot worse because I have a really low pain tolerance, so I think I was expecting excruciating pain."
Jason Merritt/Getty Images
Why a hummingbird?
"The hummingbird, though it be but little, can travel great distances," Hyland wrote alongside a pic of the tat on her Instagram. "It is a carrier of joy and lightness of being. Independent and resilient; the hummingbird lifts negative energy from your life and shows you the perfect combination of playfulness and endurance."
After the Golden Globes party, Hyland was spotted with friends at Just Jared's Homecoming Dance presented by Ever After High.
—Reporting by Sara Kitnick